---
Stories from DEP is a collection of feature articles
published in DEP's internal newsletter, Weekly Pipeline.
This article was originally published January 17, 2012.
---
At DEP, Watershed Vigilance Is No Passing FAD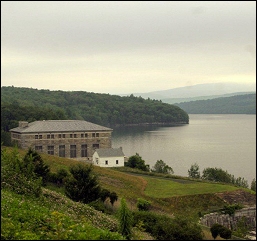 Since DEP signed an historic Memorandum of Agreement with the state and federal government, watershed communities and environmental groups in 1997, New York has been one of only five large cities issued a Filtration Avoidance Determination (FAD) by the EPA. With a capacity of 580 billion gallons in 19 upstate storage reservoirs and three controlled lakes, a waiver from the federal filtration requirement is an enormous vote of confidence that brings with it tremendous responsibility—one of unparalleled scope for a system that provides more than one billion gallons of water daily.
In December 2011, DEP submitted its latest long-term watershed protection plan to the New York State Department of Health. The plan, which includes the city's proposed source water protection activities, will form the basis of the remaining five years of the 2007 10-year FAD. First and above all, the key to maintaining the city's FAD has been the program's grounding in strong monitoring and scientific study. According to Assistant Commissioner David Warne, "The strength of our program is that it's science-based. The science and monitoring are there to support every
action we take."
DEP has reached this key milestone through a combination of multi-faceted protection programs and cooperation with watershed communities. The three pillars of watershed protection are land acquisition, regulations governing certain activities in the watershed, and partnership programs. Essential to ensuring water quality protection and fostering economic opportunity in upstate communities are DEP's partnerships with the Catskill Watershed Corporation (CWC) and the Watershed Agricultural Council (WAC). DEP has provided CWC with a fund that has loaned millions of dollars to hundreds of watershed businesses to support manufacturing, tourism and hospitality, helping to provide economic opportunities, a key goal outlined in Strategy 2011-2014. This partnership has also led to the construction of new wastewater treatment plants in various communities, seen most recently in the completion of the Ashland Wastewater Treatment Plant last August. By working with WAC, DEP has helped protect clean drinking water through pollution control practices that support functioning agricultural landscapes. This includes construction of stream buffers and crossings for livestock, keeping bacteria and chemicals from entering tributary streams.
The city's comprehensive Land Acquisition Program has played a central role in protecting its unfiltered water supply. Through purchasing more than 118,000 acres of watershed land in the Catskill/Delaware region since 1997, DEP has undertaken an unprecedented effort to protect environmentally-sensitive watershed parcels from development and pollution. As DEP's land portfolio has grown, so has the responsibility for managing those lands for water quality preservation.
Stream management is another key element of watershed protection. Together with local Soil and Water Conservation Districts and the Cornell Cooperative Extension, DEP works with watershed towns and stream-side landowners to develop management plans to suit the individual needs of each tributary stream. These plans offer comprehensive blueprints for streams as well as floodplains, mitigating damage from weather events while also preserving the natural habitat for recreational public use.
Forested land provides one of the best natural filters for DEP reservoirs. WAC works with owners and managers of privately-owned forested properties on plans to maintain forest health and vigor. For city-owned land, DEP announced the launch in December of its first-ever Forest Management Plan. The plan, developed in conjunction with the US Forest Service, focuses on creating and maintaining diversity to promote resilience to natural disturbances; additionally, it will ensure best practices for maintaining tree health so that nutrients are absorbed from soil and prevented from flowing into reservoirs.
While four other large US cities operate with a FAD, there really are no analogies to draw to the New York City water supply. As described by Warne, "Most other unfiltered supplies don't have the same level of development and population that we have in our watershed." Given the various elements at play in providing water for more than nine million consumers, New York City has emerged as the national and international model for water quality protection. It remains without question that the city has honored its commitment to the FAD, and is prepared to meet its challenges for the next five years, 10 years—and beyond.