---
Stories from DEP is a collection of feature articles
published in DEP's internal newsletter, Weekly Pipeline.
This article was originally published January 3, 2012.
---
At ECC, Communication Is Their Middle Name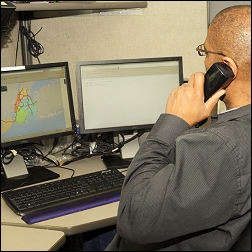 Thanks to its 24-hour Emergency Communication Center (ECC), DEP's emergency response, like the Post Office, is not deterred by snow, rain, or heat. The ECC came into being nearly 10 years ago when Mayor Bloomberg announced plans for the creation of a 311 Citizen Service Center. 311 was developed to make New York City government more accessible by enabling people to request and receive information and connect to city government services by calling one simple number. In early 2003, DEP — like its sister agencies Buildings, Housing Preservation and Development, Sanitation, and Transportation — transferred its call center hotline as part of a move and consolidation to become the main 311 Call Center in Lower Manhattan. On Sunday, March 9, 2003, the 311 phone line was activated.
While DEP's complaint function for its constituents was absorbed by the new citywide 311 call center, the agency still had to handle emergency calls and the ECC was developed and launched at the Bureau of Water and Sewer Operations' (BWSO) 38th Street yard in Manhattan. ECC is the agency's communications hub for emergencies and its staff members are proficient in dealing with multiple calls while working on two monitors and accessing several databases on their computers. The set-up enables quick handling of information including fielding calls and email messages from within DEP, and from many city agencies including the Office of Emergency Management, Fire, Police, Health and Transportation. Information also comes from state and federal agencies in the environmental and transportation arena and utilities such as Con Edison and National Grid.
ECC handles a broad range of calls about numerous events including street flooding and leaks, water main breaks, street cave-ins, accidents, fires, chemical releases or spills, and steam pipe explosions. Staff can look up complaint history by location, if it has previously been entered into Hansen, DEP's tracking system. Information from the alerts collected by ECC helps in deploying staff and sharing information about impact, for example, on vehicular and pedestrian traffic, and public transportation on surface or subway.
In 2010, ECC was part of a comprehensive reorganization by the bureau. Deputy Commissioner Jim Roberts revamped the operation to help DEP respond faster and smarter to emergencies. For example, if construction laborers are responding to a street leak and observe a significant flow of water coming from the valve chamber of a water main, they immediately contact their supervisor and district supervisor for assistance, as well as the ECC. The ECC will notify the borough manager about the developing situation.
For a water main break, the information ECC transmits can include the size and year of the main, the impact on street and traffic, if a shut-down is necessary, and how many residents are affected. A brief transmission may look like this: "North 15 found break on 8" water main (year 1870). Main is connected to 16" main. North 15 made emergency notification and shutdown on the 16" main." ECC staff notifies and updates senior, supervisory, and other relevant staff with event status including its location, the time the incident was reported, and the responding unit. ECC also provides information about upcoming weather conditions that may affect operations that may look like this: "Synopsis: Rain Tuesday evening followed by windy conditions Wednesday. Timing: The heaviest rain will impact the NYC area after 1700 hours on Tuesday and will start to taper off around midnight."
ECC staff member Malarie Gilmore,who worked in BWSO's field office before joining the unit, enjoys talking about her colleagues and the value of ECC. "As one of ECC's original members still here, it has always been a pleasure coming to work. I have seen an expanded role for ECC in notification since 9/11 and am also able to interact with many agencies including New York City Housing Authority and Sanitation, where I had previously worked."
ECC is a critical part of DEP's capacity to respond to emergencies quickly, safely, and effectively to ensure that appropriate resources are deployed in the most optimal way.
---