---
Stories from DEP is a collection of feature articles
published in DEP's internal newsletter, Weekly Pipeline.
This article was originally published November 15, 2011.
---
DEP Goes Off the Grid to Help Keep Lights On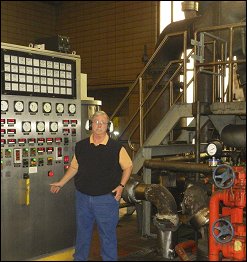 This past July, New York City experienced a string of record temperatures: eleven 90° plus days, the hottest stretch occurring on July 22-23, with temperatures topping 100° for two straight days. These are the times when most of us crank up the air conditioning and keep the fans on high, but for operators at DEP's wastewater treament plants, this heat wave was a time to reconfigure sources for powering equipment. As they are well aware, the hottest days of the summer are the days the electrical grid is most vulnerable to failure.
On July 22, around 3 pm, New York City's grid saw a new record peak load of 13,189 megawats (MW), more than 45% over the typical summer peak of 9,000 MW. On hot days like this, the city demands more power than can be transmitted from outside power plants, requiring smaller and less often used "peaker" generation plants in the city to come online. Even still, when these extreme peak load events occur, the lines and equipment that carry the electricity become strained and more likely to fail, creating conditions for a potential blackout.
During these times, communication and cooperation with the electrical utilities become key. Many pieces of equipment, such as the blowers that enable secondary treatment and biological nitrogen removal, draw such large amounts of electricity that running them can have a significant impact on the grid. Because of these impacts, DEP actively participates in the Peak Load Management (PLM) program run by the New York Power Authority. DEP and Con Ed also have open lines of communication during peak days as well. Under PLM, during periods of high electricity demand, some DEP facilities shed load. For example, the Owls Head and Coney Island plants would run much of their equipment on power from engines instead of from the grid. Owls Head plant superintendent Bill Grandner says, "It is exciting to have the opportunity to harness methane gas, a valued by-product of wastewater treatment, and turn it into kilowatts, whose energy can help the communities and citizens of this great city." Load-shedding reduces the burden on the grid, meaning DEP helps citizens keep cool on hot days.
The PLM program is one piece in DEP's energy management toolbox. It is instrumental during these notable heat wave events, but there is more to be done to manage energy demand at the plants on a long term basis. DEP's Office of Energy Policy and Infrastructure works closely with the operations bureaus to tackle this issue. The team leads projects for implementing distributed generation at the treatment plants, including solar, wind, and cogeneration (creating heat and energy at the same time). Other efforts include investigating cost-effective ways to use energy more efficiently at the plants, pursuing solutions that would potentially give operators greater awareness and control over energy usage. Not only would these projects reduce the plants' energy demand, they have the promise of advancing DEP's energy goals of increasing power reliability, making use of clean generation technologies, and significantly decreasing greenhouse gas emissions.
This year's peak summer days may be gone, but the work to shape DEP's energy future continues year-round.
---