---
Stories from DEP is a collection of feature articles
published in DEP's internal newsletter, Weekly Pipeline.
This article was originally published October 4, 2011.
---
DEP's Tunnel Vision: Safe, Safe, Safe
DEP water supply tunnels are the main arteries that keep New York City running, delivering the precious commodity that powers its industry and its people. But as every sandhog knows, tunneling is dangerous work and tunneling in the past without 21st century tools or technology could be even more perilous.

In 1905 the Board of Water Supply was mandated by the State of New York to provide a pure, wholesome and adequate supply of water for New York City. Two busy years were spent acquiring the necessary approvals, surveying land, taking geological borings, and designing the specifications for the works. Construction of the Catskill system began in 1907 and by 1909 there were 10,000 people at work per day, with an estimated 15,000 living in the job area. The Board understood the importance of keeping the workers and the surrounding communities healthy and safe.
Realizing the magnitude of the task, the Board hired a Sanitary Expert Engineer in 1909 that had responsibility for supervising all sanitary matters. Initially the primary goal was to build appropriate facilities such as hospitals, dormitories, and wash houses. In addition there were "sanitary works" to treat all liquid wastes and a laboratory to test water, milk, food and sewage. While the main focus was preventing communicable diseases and protecting the watershed, hospitals were also well-equipped to deal with inevitable construction accidents. Despite these precautions, the Catskill system was a dangerous place to be employed, with 377 deaths between 1910 and 1914.
When construction started on the Delaware water supply system twenty-five years later, contractors no longer provided housing and sanitary regulations were less of a concern. However, over the next 28 years the Board constructed 189 miles of tunnel and there were plenty of hazards to contend with such as falling rocks, gas explosions and dynamite malfunctions. There were also fingers caught in drills, workers feet crushed by train cars and objects falling from shafts, as in 1949 when workers at the top of a shaft dropped a 600 pound steel rail 900 feet to where a crew was mucking below. Miraculously no one was hurt, but in many cases the workers were not so lucky.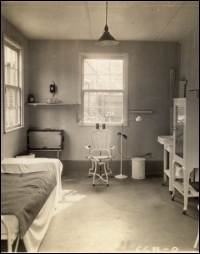 Shaft construction and tunneling at the depths encountered in construction of the Delaware Aqueduct were particularly hazardous. In addition to the immediate dangers described above there were also the threat of silica dust and poisonous fumes. Despite the inherently dangerous environment, accidents were greatly reduced through careful planning and training. During Delaware Aqueduct construction there were 15 full time safety engineers: 12 employed by contractors and three by the Board. Contractors maintained clinics at each shaft site with a nurse on duty and a physician on call at all times, with ambulance service and hospital treatment available when necessary. As with the Catskill construction, decompression sickness (also known as the bends) was a constant threat when working under pressure. During the sinking of the caissons a medical lock was provided with a physician experienced in compressed air work. Workers even wore badges with instructions to take them to the medical lock rather than a hospital if they collapsed on the street.
The Board continued to promote a culture of safety and in 1951 implemented the city-wide Accident Control Program, an initiative of the NYC Division of Analysis that encouraged a proactive approach to accident prevention. The program didn't just involve Board personnel; insurance company representatives were dedicated to the Board full-time and contractors employed safety supervisors. One innovative contractor working on the West Delaware Tunnel instituted a monthly bonus of $200 to the crew with the best safety record. In addition, inspectors from the State Labor Department and US Bureau of Mines visited work sites monthly and contributed to the safety program.
The Board's vigilance was recognized when it was awarded first prize in the Accident Control Program's 1952 annual safety contest for having the greatest reduction in accidents. While one would expect the increased use of machinery, dynamite, and greater speeds to result in more injury, in thirty years of Delaware construction there were a total of 98 deaths, while during the Catskill construction there were 98 deaths in 1911 alone. Catskill pressure tunnel operations resulted in a frequency rate (number of deaths per million man hours of work) of 3.2, while the Delaware Aqueduct frequency rate was 1.6. Put another way, compared to the other pressure tunnels built previously by the Board, the Delaware Aqueduct reduced accidents by 63% per tunnel mile and fatalities by 77% per mile, quite an impressive feat!
---