---
Stories from DEP is a collection of feature articles
published in DEP's internal newsletter, Weekly Pipeline.
This article was originally published September 27, 2011.
---
K-9 Unit Gives Criminals Reason to 'Paws'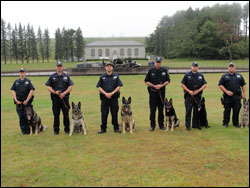 The K-9 unit within the Bureau of Police and Security was created in 2003 as an important part of enhancing the bureau's core mission—preserving the safety and purity of New York City's watershed. Although the idea for the unit was devised before 9/11, the events of that tragic day gave the unit a new focus on explosives detection and other counterterrorism measures that are now standard operating procedure. Today, K-9 teams are distributed throughout the downstate and upstate watersheds to conduct patrols and respond to any type of emergency.
The unit is made up of six handlers and six dogs, with each pair forming a K-9 team. The dogs that make up the unit bear little resemblance to their small apartment friendly cousins that call New York City home. Most are German Shepherds, and one is a Belgium Malawa.
Another important difference between the members of the K-9 unit and the regulars at the dog walk is the training that each team receives. All the dogs within the unit are purchased "green" or without any special training. The path to becoming a K-9 team requires both dog and handler to attend 8-12 weeks of patrol and tracking school followed by another 8-12 weeks learning explosives detection. The culmination of this rigorous training program is a K-9 team that is uniquely qualified to protect one of New York City's greatest assets.
The training teaches critical techniques, but it also creates an important bond between dog and handler. This bond is essential as the two are nearly inseparable while on duty. Together they perform security sweeps of vehicles and buildings; conduct regular patrols, and help locate missing children and lost recreationalists.
The K-9 unit is also available to assist state and local law enforcement. In one recent case, a K-9 team helped track down an article of clothing that led to the arrest of a man wanted for burglary in a nearby town. Environmental Police Officer Frank Emmett describes his unit as "first and foremost responsible for protecting New York City's water supply, but we are always willing to lend a hand to our upstate partners."
While the human members of the K-9 unit can serve and protect for decades, the active service length of a canine member is only 8-12 years. The decision to retire a dog is based on health and his/her ability to perform the security tasks required. Once a dog is retired, the handler is given the option to adopt the dog from the city for free. When asked about the possibility of a dog not being adopted, Officer Emmett laughed and said "I can assure you, they will all be adopted."
---