---
Stories from DEP is a collection of feature articles
published in DEP's internal newsletter, Weekly Pipeline.
This article was originally published August 23, 2011.
---
Water Board: Keeping Watch Over City's 'Lifeblood'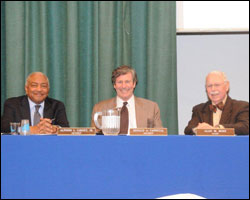 Managing the New York City water supply is a major responsibility undertaken by DEP and its nearly 6,000 employees. Whether it is delivering clean drinking water or promoting a sustainable environment, it's hard to imagine that there's more that must be considered outside of what DEP does. For instance, it is easy to forget that so much work goes into ensuring that New Yorkers are being delivered water at a fair rate. Detailed analysis and consideration are key to ensuring the necessary costs of maintaining the essential water and wastewater infrastructure are covered. Enter the New York City Water Board.
Alan Moss, Chair of the NYC Water Board is a public servant of considerable experience having served four mayors and two presidents. Mr. Moss explains, "The NYC Water Board was created to make our water supply and disposal system financially independent, self-sustaining and to rescue it from years of neglect. The Board, is keenly aware that the water system is the 'life-blood' of our great city. But the water system we have inherited is often taken for granted. New Yorkers expect the best water when we open the faucet and that everything will disappear when we flush the toilet. The funding of these expectations is at the core of the Board's responsibilities. Each year the Board is challenged with the task of setting the water and sewer rates, insuring that the water supply and disposal systems are properly operated, maintained and repaired. This important responsibility requires that the Board resist the pressures that seek to compromise its mission."
Created in 1984, the Water Board assures the public that their water charges are set at a rate that is fairly calculated. This undertaking is more than just picking a number and setting a rate; it is a full-time job. The annual rate setting process involves totaling all expenses projected for the coming fiscal year, calculating the revenues needed to cover such expenses, and then deriving a rate that will result in sufficient revenues. To this end, the staff of the Water Board is responsible for tracking daily cash flows and the capital and operating expenses for DEP, as well as helping the rest of DEP evaluate the financial aspects of projects that will impact the system.
As Water Board Treasurer, Mathilde McLean explains, "There's such a variety of work we do as Water Board staff - from tracking and disbursing $3 billion in revenue this year, to responding to customer bill appeals, to helping other bureaus at DEP evaluate the financial aspects of projects that have a tremendous impact on all of us who live in the city. Each day, there's a new and interesting challenge to tackle."
In terms of public outreach, the Water Board is responsible for responding to customer bill appeals and communicating with the public in the process of setting water rates. In recent years, communication has increased. As New York is increasingly switching accounts to metered billing, where bills are based on actual consumption (rather than a building and fixture-based rate structure), and as additional consumption information is available through the expansion of wireless meter reading to nearly 90% of our customers, the public is generally more aware of water rates, as each customer's bills reflect the amounts of water consumed. The Water Board traditionally holds water rate hearings in all five boroughs, in which presentations are given to inform the public of how the rates are devised. Last year, then DEP Commissioner Cas Holloway went out of his way to deliver presentations himself at each of the borough meetings. This is just one example of the efforts the Water Board and DEP have made to educate the public and build a lasting relationship.
As DEP continues to address all of the issues that fall under its purview, the public can rest assured that the Water Board goes to great lengths to establish water and wastewater rates that meet the demands of adequately funding NYC's highly regarded system while maintaining fair rates for its customers. To learn more about the Water Board and the process of establishing rates, visit their website by clicking here.
---