---
Stories from DEP is a collection of feature articles
published in DEP's internal newsletter, Weekly Pipeline.
This article was originally published July 5, 2011.
---
We Strongly 'Suggest' You Read This Article
The recently launched NYC Simplicity Idea Market aims to improve city government by creatively utilizing its most valuable resource — its employees. The Idea Market, an interactive online forum where employees submit ideas and also comment and vote on the ideas of their colleagues, is a 21st century spin on a long tradition of innovation by NYC employees.
One historical example of this tradition was the NYC Department of Personnel's Employee Suggestion Program. Like the Idea Market, the Employee Suggestion Program was a city-wide initiative to capitalize on the ingenuity of its employees in order to better serve the people of NYC. Cash awards of varying amounts were given to the winners depending on the perceived value of their suggestion.
The DEP Archives has administrative files from a DEP predecessor agency, the Department of Water Supply, Gas & Electricity (DWSGE), which illustrate its participation in this program during the 1950-60s. In the case of the DWSGE Bureau of Water Supply, ideas were reviewed first by the five borough superintendents. Their evaluation was then forwarded to the Chief Engineer for a final decision, with an occasional detour for input from related personnel such as the Safety Director or clerical staff.
One example of a successful idea submitted by a DWSGE employee was the conversion of 200 obsolete high pressure fire hydrant main valve rods into low pressure valve rods by an agency repair shop in 1966. This idea was suggested because the supplier of low pressure valves was on strike, leading to several hundred hydrants being put out of service in Brooklyn. In addition to averting potential fire disasters, the idea also saved the city approximately $4,000. Another successful recommendation from 1966 was to include water conservation flyers in all outgoing mail.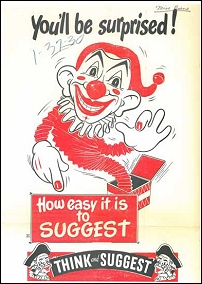 Many suggestions dealt with combatting the unauthorized opening of fire hydrants during the summer, a problem that has plagued NYC water authorities since the introduction of Croton water in 1840s. Frustration with this issue led to a great deal of brainstorming, with one 1968 employee suggestion going so far as to propose that fire hydrants "be equipped with a simple and inexpensive gas bomb so that any person that starts to release water that is not authorized to will become sick and pass out." Although the Suggestion Board was assured that the gas would not be harmful, this idea was unsurprisingly not adopted.
A more practical solution to the hydrant problem was suggested by Raymond J. Cassidy, an assistant mechanical engineer at DWSGE who in 1953 received the highest possible award of $500. Cassidy created a tool that has been a summer standby for NYC children since it was introduced in a pilot program that same year — the fire hydrant spray cap. His spray cap converted the hydrant nozzle into shower sprinklers, saving millions of gallons of water that otherwise would have been wasted by the unauthorized opening of hydrants (more than 250,000,000 gallons daily during hot summer weather). This ingenious invention allowed children to cool off while making sure that there was adequate water pressure to fight fires.
A 1950s poster for the Employee Suggestion Program aptly said, "One good suggestion is worth 10,000 gripes!" In Cassidy's case it was also worth millions of gallons of water and huge cost savings for NYC. His invention had a large impact, but it was only one of many innovative ideas proposed by NYC employees — a legacy that continues today.
---