---
Stories from DEP is a collection of feature articles
published in DEP's internal newsletter, Weekly Pipeline.
This article was originally published May 31, 2011.
---
STWs: Safeguarding The Waterways
The workers at New York City's 14 wastewater treatment plants and two collection facilities have an inside look at the rhythms and patterns of urban life, including the famous diurnal pattern that shows how water use spikes as we get up in the morning and again when we return home from work and school in the evening. But the city doesn't often have a chance to get an inside look at what happens at the wastewater treatment plant. DEP's sewage treatment workers, or STWs, are the exception.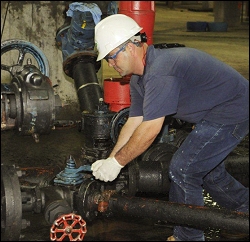 What qualifies this group to fulfill such an important task? Incoming STWs arrive at DEP with a mechanical background and an interest in the environment and receive several weeks of hands-on training, including extensive environmental, health & safety and practical safety courses. Although most incoming STWs are plumbers, electricians and maintenance workers are also common. During training, specific courses include training about scaffolding, forklifts/aerial lifts, burning, pumps, pipe fitting, rigging and cranes, basic wastewater, laboratory procedures, Right-to-Know, and personal protective equipment. Confined spaces training prepares the team to work in tanks, pits, and the underground vaults that store equipment, and daily quizzes ensure that each person learns the material as he or she goes and has an opportunity to study and practice before taking on the full responsibilities of the job; this is especially important since so few incoming STWs have experience in the wastewater field.
Chief of the Training and Development Section Walter Dobkowski has worked at DEP for 26 years and knows what it takes to join this team from his time as an STW at the Rockaway Wastewater Treatment Plant and from 20 years of training incoming classes, including the largest class ever (more than 40 people) that completed orientation this past March. His career also exemplifies some of the most popular reasons for choosing to enter this field. "When the timing is right I've seen individuals rise through the ranks to become plant chiefs in as few as 10 years," he says. But even without such fortuitous timing with the civil service schedule, steady work and regular opportunities for career advancement are two important factors that lead people to apply for this position.
After orientation, DEP offers classes to allow STWs to earn additional certificates or licenses applicable to the wastewater treatment industry, including certificates of fitness issued by FDNY and a wastewater operator's license issued by the New York State DEC. One thing that distinguishes New York City's STWs from their counterparts in other municipalities is that training prepares them to operate and maintain the plants, whereas the terms of the wastewater operator license reflects a practice in other municipalities to split these functions between two different teams. Walter says about New York City STWs, "This is a more skilled workforce because they can multitask and are not limited to one task or trade, and are that much more valuable to the city."
---