---
Stories from DEP is a collection of feature articles
published in DEP's internal newsletter, Weekly Pipeline.
This article was originally published May 3, 2011.
---
Hoosier Guess for Which City is Pioneering CSO Monitoring?
Reaching out to other municipalities is a cornerstone of strategic plan initiative #2 to allow the agency to innovate and implement best practices by learning from others. One area we hope to gain more knowledge is in managing CSOs — a problem that is not unique to New York City. New York, like most older cities in the Northeast and the Midwest, has a combined sewer system. A combined sewer system collects wastewater, what typically gets flushed down a drain in a residential home, and stormwater runoff, what flows into drainage systems when it rains, together in the same pipe from properties and streets. About two-thirds of New York City's sewered areas operate like this. This often presents an issue during rainstorms when treatment plants reach their capacity due to the tremendous increase in rainwater that flows into sewers. To relieve pressure on the system during these high-flow periods, the largest city sewers have "regulator chambers" equipped with overflow structures that divert combined stormwater and wastewater into New York City's surrounding waterways at 422 locations around the city. This is known as a combined sewer overflow, or CSO, and is one of the remaining challenges to improving the quality of our waterways.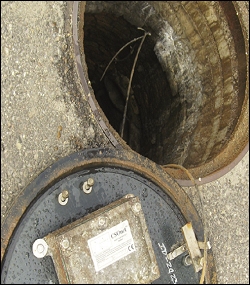 New York City's combined sewer system is managed in coordination between DEP's Bureau of Water and Sewer Operations (BWSO) and the Bureau of Wastewater Treatment (BWT). On March 25, BWSO Deputy Commissioner James Roberts, and BWT Assistant Commissioner for Operations John Petito visited South Bend, Indiana to witness a first-of-its-kind technology to monitor the combined sewer system in near real-time. In a partnership with EmNet, LLC and the University of Notre Dame, South Bend has installed various monitoring devices throughout their 20 square miles of combined sewer system, which are connected to data loggers and wireless transmission devices to report on water level and flow every five minutes. The system, which South Bend dubs "CSONet," enables their operations staff to monitor their sewer system in near real-time from a central location. As a result, South Bend has reduced their annual unpermitted combined sewer overflow events from 29 in 2008 to only one in 2010. By reducing penalties from unpermitted CSO events, increasing inline storage, and optimizing existing operations and maintenance, South Bend believes they have avoided the $120 million cost of building expensive grey infrastructure, like tanks and tunnels, for a $6 million investment in CSONet.
The demonstration piqued the interest of Roberts and Petito, and DEP is looking to see if this can be done in the complex ultra-urban environment of New York City. As a next step, DEP is going to try to replicate a similar model in a pilot area within one of our combined sewer drainages areas and see if a system like this will help us clean our waterways by reducing CSOs. The knowledge gained during this field study, says Roberts, "will help DEP continue to meet the goals set forth in Strategy 2011-2014 to use new technology to measure, manage, and optimize the capacity and performance of our sewer system."
---