---
Stories from DEP is a collection of feature articles
published in DEP's internal newsletter, Weekly Pipeline.
This article was originally published April 12, 2011.
---
An Annual Spring Challenge: Water We To Do About All This Rain?
We know that April showers bring May flowers, but for DEP, spring's wet weather can have a much more immediate effect than encouraging the blossoms in our neighborhoods and parks. From the reservoirs to the Catskill and Delaware watersheds to New York Harbor and beyond, rain and snowmelt affect the quality and quantity of New York City's drinking and receiving waters.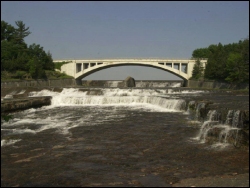 The spring is a busy period for DEP's upstate water supply operation, or as Deputy Chief of Reservoir Operations Brad Dromazos says, it's a time that requires slightly more micromanaging than average. "The rain will increase the storage in our reservoirs from surface runoff and additional melting of all the snow in the mountains at this time of year." Especially if there is a significant storm, Brad and his team may change their operations to maintain balanced reservoirs. Rain and surface runoff can also affect water quality by increasing turbidity. Brad says, "We definitely keep an eye on the weather. To make sure we can send the best quality water to the city we need to know where we were, where we are, and where we're going."
In the five boroughs, increased rain presents a different set of challenges. New York City receives on average 49.7 inches of precipitation each year, though we've received as much as 80 inches in 1983. New York City's many impervious surfaces, including pavement, rooftops, and parking lots, prevent rain from absorbing into the ground. And since most of New York City has combined sewers that transport sanitary waste and stormwater runoff to wastewater treatment plants, more rain means a higher volume of wastewater. New York City's wastewater treatment plants can treat approximately double the average dry weather flow, but heavier rainfalls can surpass the system's capacity and trigger combined sewer overflows. Consistent upgrades to our network of treatment plants have resulted in the cleanest New York Harbor in a century, but building new infrastructure to adapt to weather conditions can be an expensive solution to an occasional problem.
Instead, the NYC Green Infrastructure Plan proposes ways to capture and store rainwater where it falls, often through natural ecological processes. Project Manager for Green Infrastructure Partnerships Mikelle Adgate describes green infrastructure as a way to use rainwater as a resource instead of thinking of it as waste. "Green infrastructure installations use rain to nourish plants, which not only brings aesthetic improvements, but improves air quality too," she says. For example, households with lawns and gardens can devote as much as 40% of their water use to landscaping; rain barrels that connect to your home's downspout hold rainwater for later use, which reduces surface runoff and household water consumption. And when rain absorbs into the ground of streetside infiltration swales and enhanced tree pits planted with native plants, April showers really do bring May flowers — even here in New York City. "The GI Plan is truly a collaboration between many city agencies and DEP offices. We see it as the future of stormwater management."
---