---
Stories from DEP is a collection of feature articles
published in DEP's internal newsletter, Weekly Pipeline.
This article was originally published March 8, 2011.
---
Air-ing on the Side of Caution for Health
The New York City Air Pollution Control Code, or Air Code, entitles all New Yorkers to clean, healthy air. It's the job of the Air Engineering Office, led by Ray Hodge, to make sure that happens. Staffed with 17 engineers, the office handles the "before" and "after" of combustion equipment and industrial processes that create emissions, including boilers (over 350,000 BTU), generators, spray painting in auto body and furniture shops, dry cleaners and other manufacturing uses. The minimum boiler size threshold effectively excludes one and two family homes from this requirement and helps DEP focus on potentially significant sources of pollution.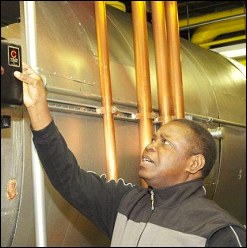 Before facilities are built or equipment is installed, professional engineers or architects must submit plans to DEP for review. Once plans are approved and permits issued, inspectors follow up with field inspections to ensure compliance and that the equipment is installed and operates as designed. After the three-year lifespan of a permit, inspectors conduct another in-person inspection since failure to properly maintain equipment is a significant source of air pollution. Other than violations from failure to renew a permit, common violations of the Air Code include sustained visible emissions and odors often reported through 311. Assistant Commissioner Mike Gilsenan said the unit, which conducts approximately 8,000 inspections a year, "was composed of a team of dedicated professionals who ensure that the necessary review of equipment complies with all air code rules and regulations, thereby helping to improve air quality for New Yorkers."
Like DEP as a whole, the Air Engineering Office works with a variety of different types of customers that range from large landlords to small business owners. One way DEP helps small businesses is through the agency's Economic Development Unit, which offers technical assistance with outreach and advice on how small businesses can achieve compliance and improve their operations.

Although continuous changes in the Air Code do not change the air engineering office's fundamental mission, they do require some flexibility in the levels or type of emissions that require permits. For example, new rules about perchloroethylene (a chemical that dry cleaners use and commonly known as "perc") will change where and in what buildings dry cleaners may be located in the coming years. The proposed changes to fuel oil use would also require a revised permit review to make sure that the elimination of less clean burning Nos. 4 and 6 oils—which create more soot pollution than all the cars and trucks in the city combined—has the intended effect of improving air quality and reducing carbon emissions.
---