---
Stories from DEP is a collection of feature articles
published in DEP's internal newsletter, Weekly Pipeline.
This article was originally published February 1, 2011.
---
Backflow Prevention: Connection and Inspection are the Right Direction for Drinking Water Protection
Protecting the quality of New York City's drinking water takes place from the watershed to the tap, and is made up of many components including watershed protection, water monitoring, sampling and well-maintained mains. So how do laundries, commercial car washes, breweries, canneries, dry cleaners, exterminators, slaughterhouses, supermarkets, schools, restaurants, barber shops and beauty salons fit in? Each is legally required to install a backflow prevention device (BPD) to prevent contaminated water or chemicals from flowing back into the public drinking water supply system. Backflow prevention devices, also known as cross connection controls, function by containing potential contamination within the premises of the user. For example, car washes with strong recirculation pumps could inadvertently force contaminated water back into the distribution system if they did not have the proper backflow prevention devices on their water services.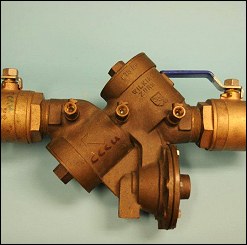 In 2010, Deputy Commissioner Jim Roberts, Bureau of Water & Sewer Operations, launched a Backflow Prevention Enforcement Initiative following a thorough review of the risks associated with cross contamination. Since then, more than 16,000 property owners have been notified of the need to install a backflow preventer. Over the next four years, DEP plans to inspect more than 20,000 buildings based on the potential risk posed by the building or business to the water supply system. As many as 100,000 buildings in New York City may be required to install a backflow prevention device, and more than 22,000 buildings are from the 36 use groups such as canneries, breweries, and laundries that may pose a higher risk of contamination to the water supply system. Since 1987, all new buildings have been required to have backflow prevention devices unless DEP has granted them an exemption in order to qualify for a certificate
of occupancy.
For the Chief for Permitting & Inspection Jim Luke, not only are cross connection controls an important part of protecting the public water supply, but they bolster DEP's extensive water quality testing and monitoring program to ensure the quality of water in the distribution system. Investigators go door-to-door and perform on-site assessments to determine whether a property needs a BPD. About 50 percent of properties inspected by DEP staff have required installation of BPDs. If a device is needed, the property owner must retain an engineer or architect to design plans. When the plans are reviewed and approved, the device must be installed by a licensed plumber, and a device must be installed on all water service lines to the property. Appropriate devices can be identified by a Professional Engineer, Registered Architect or Licensed Master Plumber.
According to Luke, "most building owners quickly install a backflow prevention device once DEP has notified them of the need to do so," and they understand that they are part of the system. He finds that combining enforcement with extensive, targeted public outreach and education, results in greater compliance. DEP's Cross-Connection Brochure, and supporting forms and documentation are available online, and by mail from the city's non-emergency helpline, 311. The brochure is available in seven languages including Spanish, Russian and Korean. One thing is clear, no matter the language, keeping New York City's water the best in the world is a team effort and everyone needs to do their part.
---