---
Stories from DEP is a collection of feature articles
published in DEP's internal newsletter, Weekly Pipeline.
This article was originally published January 25, 2011.
---
Cease the Grease: DEP's FOG Program Helps Keep NYC Sewers Running
With more than 22,000 food service establishments serving more than eight million New Yorkers, plus all the tourists and  commuters that come into the city every day, sometimes things get flushed into the sewers that shouldn't! Both food establishments and households discharge wastewater containing fats, oil, and grease (FOG) into more than 7,400 miles of New York City public sewers. FOG can build up in the sewer by adhering to its pipes, restricting the normal flow of sewage. Clogged sewers can cause sewage backups, unsanitary conditions, and flooding as well as damage to personal and public property creating a health hazard, unpleasant mess, and expensive cleanup costs. Based on EPA's data, a national average of 40% of sewer backups are caused by grease clogging the sewers.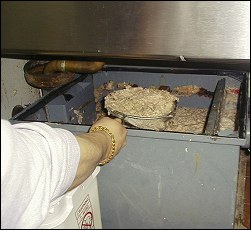 DEP's Bureau of Water & Sewer Operations has a program that flushes and cleans the sewer system based on patterns of 311 complaints, which is one component of the solution. The other component is DEP's Grease Remediation Program within the Bureau of Wastewater Treatment. The Grease Remediation team's primary function is to enforce the city's sewer regulations. A section in the regulations requires certain types of businesses to install and maintain grease interceptors, which are devices that separate grease from wastewater before it gets into the sewer system. The regulations also specify how large the interceptors must be and their periodic maintenance. Interceptors must be cleaned so that grease build up does not cause them to exceed their rated capacities.
The team inspects about 3,000 food service establishments per year and checks their interceptors for proper sizing, installation, and maintenance. Inspections are prioritized based on complaints to 311, referrals from BWSO's Sewer Maintenance unit, or are targeted in areas of the city that have chronic grease issues. DEP also receives periodic updates of food service establishments from the NYC Department of Health & Mental Hygiene to determine where there are new restaurants that need to be inspected.
Enforcement action may include the issuance of a Commissioner's Order, requiring a food service establishment to take corrective action within a specified time limit, and/or the issuance of Notices of Violation (NOV) for not complying with the regulations. Monetary penalties can range from a few hundred dollars to a maximum of $10,000 per day for egregious violations.
In addition to enforcement, the team also does outreach to explain the importance of keeping FOG out of the sewer system. "We inspect restaurants for compliance, but also educate owners about the interceptors, which can avoid costly sewer backups for them," said Pravin Patel, Chief of BWT's Compliance Engineering Section and manager of the Grease Remediation team. His team distributes literature — available in five languages — and holds public meetings to discuss the control of grease.
As food service establishments become more aware of the regulations, the number of NOVs issued by the team has decreased over time. For instance, in 2008 DEP issued 1,468 violations. That dropped to 818 in 2009, and even further down in 2010 to 717. "Since the implementation of the program several years ago, the level of cooperation and compliance has gone up. Thousands of grease interceptors have been installed or upgraded, and lots of grease that would have entered the sewer system is now either being recycled or disposed with solid wastes," said Patel. DEP also has educational material targeted to residents so that everyone can follow good practices regarding the proper disposal of grease.
---