---
Stories from DEP is a collection of feature articles
published in DEP's internal newsletter, Weekly Pipeline.
This article was originally published December 13, 2011.
---
Stream Team Keeps Things Flowing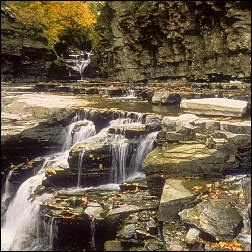 Catskill streams are the capillary system of our water supply network: the health of the whole reservoir system depending upon a properly functioning capillary — or stream — system. Streams are long, linear ecosystems that are home to countless organisms and the more diverse the biological inhabitants, the better job a stream can do in cleaning up pollutants. Streams are dynamic features of landscapes, swelling in rainstorms and shrinking during drought. And, of course, they are the source of recreation and aesthetic enjoyment, serving as shelter and spawning areas for fish and wildlife, which leads to economic benefits for communities through which they pass.
DEP helps keep streams healthy and functioning by working side-by-side with communities and with local watershed partners such as county Soil and Water Conservation Districts and Cornell Cooperative Extension to provide technical assistance to landowners who need help managing streams and floodplains on their property and for their cleanup after events such as Hurricane Irene. If done improperly, stream cleanups can lead to long-term water quality impacts. Since the storm, DEP's Stream Management Program has been out in the field consulting with DEC and local officials to guide stream work.
The magnitude of the flood event precipitated by Hurricane Irene was unprecedented in the West-of-Hudson watershed; for many of the communities this flood event was the flood of record and far surpassed the inundation levels and damages of past record floods.
Flooding brings massive slugs of sediment into the system that can cause problems. The Stream Management Program was well positioned to respond effectively because of the strength of its 15 year-long partnership with the watershed's Soil and Water Conservation Districts. The partnership enabled DEP to bring a considerable force of expertise to address extensive debris jams that compromised the rural mountainous road network and the hydraulic capacity of bridges and culverts.
When rain falls or snow melts, water that doesn't seep into the ground becomes runoff. This runoff drains into a network of streams, brooks, creeks and rivers, which ultimately reach the reservoirs—such as the Schoharie Creek, which drains into the Schoharie Reservoir and the East Branch of the Delaware, which drains into the Pepacton Reservoir. Along this network, stream channels shape themselves to carry the high water of spring snow melt. Flows that exceed the stream channel's capacity become floods, which can range from minor events to raging torrents that carve new channels.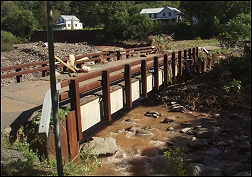 "We had learned from past flood events that post-flood channel dredging and channelization can undermine infrastructure such as bridge abutments and streambanks and roadbanks and contribute to landslides—all of which degrades water quality," said Beth Reichheld, Program Manager of the Stream Management Program. "Therefore, the main focus of the stream management program in the weeks following the flood was to prevent this overzealous stream work and instead get out in front of it and guide it. Our teams provided proper stream channel dimension and alignments to the National Guard, highway departments and private contractors throughout the watershed, preventing channelization and berming that would exacerbate future erosion and flooding."
In the ongoing recovery period of about one to two years, the stream management program and its partners will continue providing professional engineering services and funding to help the watershed communities leverage federal and state funding for flood hazard mitigation projects that will also provide a water quality benefit.
Through its local partners, the program provides technical assistance to landowners regarding strategies that reduce stream bank erosion and improve habitat for fish and other wildlife. DEP staff meet with landowners to discuss their individual problems and explore options that address their concerns.
Since 2002 the program has completed comprehensive plans for most West-of-Hudson rivers, created a network of more than 25 restoration projects, and established local field offices to help landowners and communities solve stream-related problems. The team and its partners are working to build a proactive stream stewardship ethic among those living and working in the watershed.
---