---
Stories from DEP is a collection of feature articles
published in DEP's internal newsletter, Weekly Pipeline.
This article was originally published January 18, 2011.
---
Think These Upgrades Are Important? "Dam" Right They Are!
Our upstate dams literally form the backbone of our drinking water supply system — impounding rivers and lakes, allowing water to collect in our reservoirs, which eventually ends up in the distribution system. Throughout the water supply system, we have 26 high hazard dams along with another 68 small dams acquired through the Land Acquisition Program. Many of these dams have been doing their job for a long time — like the Boyds Corner Dam built in 1870 and still in operation — and need to be kept in good operating condition.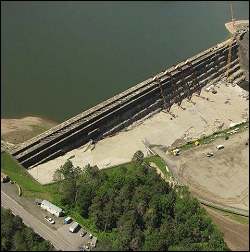 The Bureau of Water Supply works every day to ensure that the dams are also kept in safe condition. "Safe dams aren't only vital to having a continuous water supply, but they are very important to the DEP employees who work on these dams and the communities that live under them," says Chief of Eastern Operations Mark Donecker. Should a dam even partially fail, communities in the Croton, Delaware, or Catskill watersheds could be significantly affected
by flooding.

One way the city keeps dams safe and operational is by having a robust capital program for rehabilitation. Upgrades were originally focused on the dams in the Croton Watershed — as the system and dams were older and more likely to have deficiencies than their counterparts in the Delaware and Catskill watersheds. DEP began evaluating the Croton dams in the 1980s and proceeded to rehabilitate 12 dams over the next 25 years. While the specific upgrades were slightly different from dam to dam, the overall aim was not only to extend the useful life of these dams by 50 or 100 years, but also to increase operational reliability by upgrading mechanical/electrical equipment and providing better management of inventory
and releases.

To the West of Hudson, the rehabilitation of the Gilboa Dam—starting with the emergency work in 2005 and scheduled to be completed by 2016 — has been the most significant rehabilitation project. As Executive Project Manager Paul Costa discussed, "The number one priority was increasing stability as quickly as we could and we did that by installing 80 anchors throughout the top of the dam, extending into bedrock." These anchors — consisting of bundles of 58 steel cable strands, 14 inches in diameter — were tightened after installation, which resulted in increased stability due to increased tension in the cables' strands. The last stage of the project, to reconstruct steps along the spillway, was actually just bid and will start this summer.

But Chief of Western Operations Division John Vickers is quick to point out that capital upgrades are only one part of the safety program for dams. "If capital upgrades are one part of the three-legged stool of making dams safe, the others are a robust inspection and maintenance program and well-coordinated emergency action plans." In fact, DEP goes way above and beyond the minimal inspection requirements by performing weekly and monthly visual observations as well as annual engineering inspections. And the agency has worked over the past several years to strengthen its emergency action plans for high hazard dams, which include communication trees and inundation maps in the case of flooding, and is constantly coordinating with local responders to keep on the same page. With our capital upgrades, inspection and maintenance program, and emergency action plans, DEP is staying well ahead of the curve to operate a safe dam system.
---