---
Stories from DEP is a collection of feature articles
published in DEP's internal newsletter, Weekly Pipeline.
This article was originally published January 11, 2011.
---
They Put the "Best" in Asbestos Control
Part of DEP's myriad responsibilities includes making sure that the city maintains healthy air quality levels for its residents. One critical component of this responsibility is the careful regulation of asbestos, a naturally occurring mineral that was used for insulation, construction, and fireproofing throughout much of the 20th century. Although asbestos in place poses no risk to the public, any activity which has the potential to expose asbestos fibers into the air must be regulated under federal, state and local laws.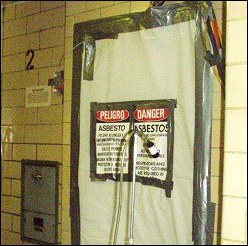 This is where DEP's Asbestos Control Program comes in. Comprised of 40 employees working for the Bureau of Environmental Compliance, the program is responsible for protecting workers, the public, and the environment by ensuring the controlled abatement of asbestos containing materials. Renovations to older buildings will often involve disturbing asbestos containing materials. In order to safely remove any asbestos containing materials that are found, abatement contractors are required to follow strict city regulations that mandate proper procedures for containing and removing asbestos.
The program enforces these regulations by responding to complaints, conducting unscheduled inspections, and by issuing notices of violation to work sites that fail to comply with regulations. They review and approve applications from individuals seeking to engage in asbestos abatement and investigation, which requires passing an examination prior to certification, and processing thousands of recertifications for individuals who are trained as asbestos handlers, supervisors, and investigators. In Fiscal Year 2010 alone, the program responded to 1,170 asbestos complaints and, carried out 4,000 inspections.
Led by Director Krish Radhakrishnan, P.E. and Deputy Director Steven Camaiore, P.E. the program has played a critical role in managing some of the city's biggest crises. In response to the dust and debris released after September 11, which included large amounts of asbestos containing materials, DEP led a survey of approximately 1,000 buildings below Canal Street and coordinated a comprehensive cleanup of rooftops, facades, ledges, and other contaminated surfaces with disaster funding provided by the Federal government.
In the aftermath of the tragic fire at the Deutsche Bank building, the Mayor's Office convened a working group to assess how the city regulates construction, demolition and asbestos abatement operations, including enforcement and field operations. The goal of this assessment was to make recommendations to improve the safety of worksites for workers, first responders, and the general public. The recommendations focused on four key areas for implementation: oversight of abatement operations, oversight of demolition operations, inspection protocols and data exchanges amongst agencies.
Out of these recommendations, the Asbestos Technical Review Unit (A-TRU) was created as a new inter-agency permitting operation, which includes DEP and DOB staff who review and permit asbestos abatement projects that impact public safety. In addition, a web based Asbestos and Reporting Tracking System (ARTS) and a permitting process, aimed at projects posing certain safety risks, were implemented in the fall of 2009. Data from all asbestos projects is transmitted electronically to FDNY on a daily basis.
Building upon the success of ARTS, in 2010 the bureau also created an electronic verification program for private Certified Asbestos Investigators who make initial determinations on the presence of asbestos prior to construction activities. The system will now screen all applications submitted by the investigators and will be able to track their work. This is another step toward a completely paperless process in the immediate near future.
Program Director of Enforcement Carlstien Lutchmedial notes that "we run a tight ship. We get a lot of work done and we make sure to keep our inspectors busy." And whether it involves the renovations of major capital projects, or just the replacement of piping in an old apartment, the inspectors of the program are working hard to ensure a safe and healthy environment for all New Yorkers.
---