---
Stories from DEP is a collection of feature articles
published in DEP's internal newsletter, Weekly Pipeline.
This article was originally published December 28, 2010.
---
Watt DEP Is Doing to Amp Up NYC's Power
With recent federal mandates to treat portions of the water supply and to reduce nitrogen and wet weather discharges, DEP's electricity use is expected to increase by 53% in the next five years, and our total energy costs are expected to almost double by 2014. At the same time, all City agencies are tasked to meet the PlaNYC goals of reducing energy consumption and greenhouse gas emissions by 30% by 2017. So what can we do to reconcile these two realities?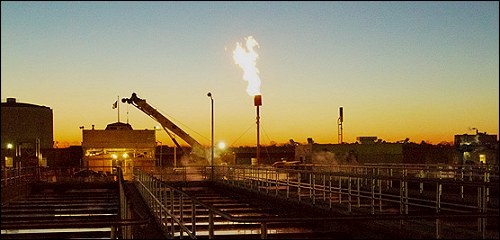 Last month, DEP became the lead agency and the Mayor's principal advisor on the city's energy policy and planning efforts, including making investments in private energy infrastructure and working with energy regulators on issues affecting ratepayers. By combining the policy-making functions with DEP's capital investment planning experience, large asset base, and technical expertise in water, wastewater, and energy systems, the city will be in a better position to meet the energy needs and goals of the future.
To meet rising energy demand, there are numerous ways to take advantage of DEP's assets and processes to generate clean energy, including building hydropower facilities on our upstate reservoirs, cogeneration plants at our wastewater treatment plants (WWTPs) that will use anaerobic digester gas produced at the plants, and wind and solar power facilities on WWTPs and closed landfills, where DEP performs remedial activity. Consistent with PlaNYC's goal of expanding the city's power supply, DEP will also support expanding the city's natural gas infrastructure. As Energy Regulatory Affairs Director Mike Delaney says, "DEP is ideally positioned to think creatively and boldly about how to meet the city's future power needs, even in the face of our current budget realities."
Even at DEP we are finding ways to cut down on our energy use. For the past five years at the Coney Island WWTP, 90-95% of the anaerobic digester gas (ADG) — that might otherwise be wasted in a flare — has been used to power the engines and boilers, significantly minimizing fuel oil consumption. The combination of using ADG and reducing fuel oil consumption significantly decreases DEP's greenhouse gas emissions. Since July 2010, Tallman Island WWTP has been using only two blowers instead of three, due to the installation of more efficient diffusers, saving approximately 700 gallons of fuel oil per day. Other measures such as operating HVAC fans at the lower speed setting, and installing timers and motion sensors for WWTP lighting, have helped to slow the rate of growth of electricity demand.
DEP will continue to tap into the vast knowledge and field expertise of its employees to continue to meet the energy challenges and goals. As Sergej Mahnovski, Director of the Office of Strategic Planning that includes the new energy team, explained, "We have a unique opportunity to scale up some of the most innovative ideas in clean energy, energy efficiency, and demand response to help the city meet its ambitious energy goals."
---