---
Stories from DEP is a collection of feature articles
published in DEP's internal newsletter, Weekly Pipeline.
This article was originally published December 14, 2010.
---
The ABCs of Getting NYC More Zzzzs
In the city that never sleeps, DEP's Air and Noise Unit works nearly around the clock to achieve a balance between a vibrant and quiet city for Big Apple residents. Since the implementation of the new Noise Code in 2007, the unit, co-directed by Principal Air Pollution Control Inspectors Ray Montalvo and Joseph Scafidi, has not stopped making sure New York residents are in compliance with the revised code each and every day.
Sound level readings are taken with a noise meter.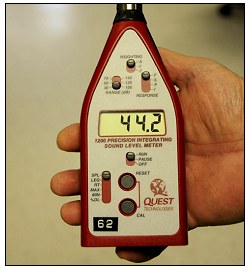 In 2004, Mayor Bloomberg ordered a review of the city's Noise Code — the first overhaul in more than 30 years. The main purpose was to manage the need for construction, development and an exciting nightlife with New Yorkers' well deserved right to peace and quiet. Since then, noise complaints have gone down. In FY 2009 — DEP received a total of 39,371 noise complaints compared to 31,778 in FY 2010, a 19.3% decrease.

The Noise Code covers jackhammers, barking dogs, music and other noises — even the ice cream truck has to comply. "Since the new Noise Code was enacted, DEP's staff has worked diligently to provide the residents of NYC a service to enhance their quality of life," said Scafidi.

The 45-member DEP Noise Unit responds to noise complaints in a variety of ways. Most commonly, inspectors respond to complaints which may require that they schedule an appointment with the complainant to evaluate and assess the situation. Once they are at the location, sound level readings are taken with a noise meter and compared with the sound levels of the problem noise to determine if it has exceeded Noise Code standards. If warranted, a notice of violation is written. DEP also works closely with the Police Department in responding to complaints. Noise coming from auto and motorcycle mufflers, horn honking and boom boxes is generally responded to by the Police Department since an offending vehicle has to be pulled over to the side of the road and uniformed police officers are trained to do this.

Since the implementation of the Noise Code, DEP has also worked with industries to transition into new ways of doing business and complying with the new noise regulations. The construction industry must now develop comprehensive noise mitigation plans prior to commencing construction. Also, under the new code, a bar or a club that plays music can be fined if the music is plainly audible to an inspector measured from 15 feet outside the business. However, businesses can avoid the steep fines if they submit a noise mitigation proposal and take concrete steps to alter their acoustics. As for ice cream trucks, they are now required to stop playing the jingle when they are parked on a neighborhood street. "We will continue to work with the public to inform and protect NYC from unreasonable noise," said Scafidi.

New York City is a very busy urban environment, so it is nice to know that someone is looking out for our peace and quiet.
---