---
Stories from DEP is a collection of feature articles
published in DEP's internal newsletter, Weekly Pipeline.
This article was originally published November 30, 2010.
---
Forecast Calls for Better Water Quality Projections
Heavy rain and snow affect our water supply by suddenly changing the quantity and quality of the water in New York City's upstate reservoirs. For example, heavy rain can cause an increase in turbidity that might change how BWS uses the Catskill, Delaware, and Croton watersheds to meet the demand of nine million consumers in New York City, Ulster, Orange, Putnam, and Westchester counties — and the lack of rain can cause water supply issues that lead to drought regulations.
Cannonsville Spillway, non-drought conditions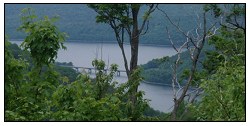 Today's decisions on how to manage water supply requires information about where the water supply will be months in advance. DEP's new Operations Support Tool (OST) is a collection of predictive modeling and data acquisition tools that will help BWS more accurately monitor reservoir levels east and west of the Hudson River; reservoirs have dynamic elevation targets that change throughout the year to account for seasonal variations in weather and past, current, and future projections of inflow. Whereas DEP previously used information on water quality, the amount of anticipated rain and snow, and current reservoir levels to calculate new balance targets several times a year, OST will automatically deliver continuous, real-time projections. For example, if heavy rain increases turbidity in one part of the supply system, OST can predict how long it will take for water quality to improve, and just as importantly, how long we can sustain the volume we draw from a different reservoir to meet demand. In addition to an expansion of the calculations DEP already uses, OST will eventually draw on newly-improved forecasts from the National Weather Service compiled with DEP data.

Cannonsville Spillway, drought conditions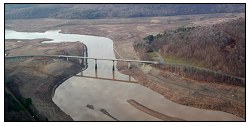 New York City also continually tries to balance the needs of downstream communities, while at the same time taking into account other unforeseeable factors such as prolonged droughts and infrastructure disruptions. OST will enable DEP to divert or release water from each of its reservoirs at the best times. This not only protects downstream habitat and helps cushion storm impacts, but it ultimately guarantees a reliable amount of the highest quality water is delivered to New Yorkers both now and in the future as the city continues to grow. DEP will be presenting OST at the next Delaware River Basin Commission Regulated Flows Advisory Committee Meeting in December.

OST will come online in phases and is expected to be complete by the end of 2012. As Deputy Chief of Reservoir Operations Brad Dromazos notes "When OST is fully integrated, it will provide us useful guidance when making water supply decisions. These products, along with our knowledge and experience, will help determine the proper course to provide a reliable supply of high-quality water to the citizens of the city."
---