---
Stories from DEP is a collection of feature articles
published in DEP's internal newsletter, Weekly Pipeline.
This article was originally published July 20, 2010.
---
Green Infrastructure – What a "Swale" Idea!
DEP's traditional grey infrastructure achieves the impossible every day. The Agency's thousands of miles of tunnels, water mains, aqueducts, wastewater treatment plants and other facilities deliver 1 billion gallons of water to nine million New Yorkers, safely treat 1.3 billion gallons of wastewater, and maintain the health of New York's waterways.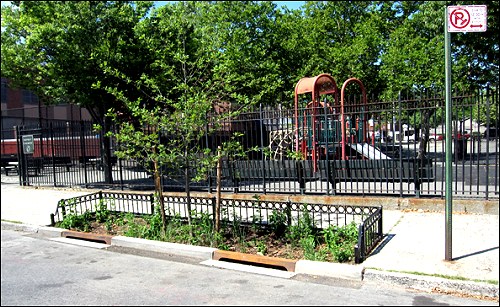 And even as DEP continues to make enormous investments in grey infrastructure – such as the subterranean Paerdegat Basin Combined Sewer Overflow (CSO) Tank in Brooklyn, and the Flushing and Alley Creek CSO Tanks in Queens – the Agency is also looking for green solutions to manage stormwater at the source.
That's why DEP recently awarded $2.6 million in total to the five winners of the Flushing and Gowanus Green Infrastructure Grant Initiative. "Each of these five projects will capture and retain stormwater runoff, further improving New York Harbor's high water quality by reducing CSOs," said Carter Strickland, the Deputy Commissioner for Sustainability. "These targeted, small-scale programs will also provide DEP with the data the Agency needs to replicate these projects throughout the city in the future."
Capturing stormwater will reduce CSOs and improve the high water quality of the waters surrounding New York City, which are the cleanest they have been in over a century. Higher overall water quality will provide New Yorkers with more public space for recreation, attract visitors, improve the environment, and provide businesses with development opportunities.
The five Grant awardees – Manhattan College, Columbia University, Regional Plan Association, Gowanus Canal Conservancy and Unisphere, Inc – will have one year to build their project and then monitor it for three years. Projects include everything from the installation of a modular green roof on New York Hospital; the replacement of nearly 2,500 feet of impervious surface with a new 'greenstreets' program; the construction of bioretention basins under the Long Island Expressway (one of which will be able to hold about 34,000 gallons during a 2-inch rainstorm); the installation of seven curbside swales; and the creation of treatment wetlands and rain gardens in Meadow Lake, Queens.
"I have always believed that the biggest application for green roofs will be systems that are modular, easy to install, and only cover portions of the roof," says Dr. Scott Lowe, Manhattan College's Associate Professor of Civil & Environmental Engineering. "It's more beneficial for the city to have 10,000 buildings with some green on the roof rather than 100 with extensive green roofs. With this project, the city has taken a major step in this direction, and the experience gained will prove invaluable."
So don't let anyone say differently: in NYC, grey and green makes a healthy blue.
---