---
Stories from DEP is a collection of feature articles
published in DEP's internal newsletter, Weekly Pipeline.
This article was originally published June 29, 2010.
---
These Bluebelts Are So Green
Managing stormwater is an enormous challenge. Even a little bit of rain can generate unbelievable amounts of stormwater that demands proper conveyance and treatment: if only 1/8 of an inch of rain falls in the drainage area for the Newtown Creek Wastewater Treatment Plant, that means that the Plant will have to process an additional 63 million gallons of stormwater – enough to fill about 96 Olympic-sized swimming pools.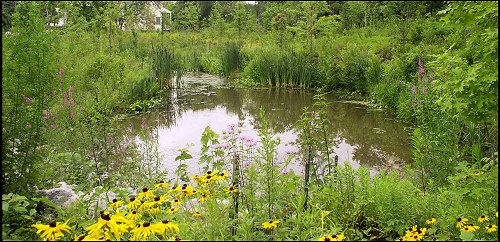 Because of climate change, we've seen more frequent and more intense storms. This new pattern is going to present DEP with additional challenges, and Mayor Bloomberg has made stormwater management a key component of PlaNYC, the comprehensive strategy for making New York a more sustainable, healthier, and greener City by 2030.
That's why green infrastructure, like the award-winning Staten Island Bluebelt System, is so important. The system is made up of streams, ponds, and other wetland features that drain about 14,514 acres, or about 36% of the land area of Staten Island. Another way of looking at it is by watershed, a geographic area that drains to a stream or water body. The Bluebelt system drains 15 watersheds at the southern end of Staten Island in addition to Richmond Creek, New Creek, South Beach, and Oakwood Beach Watersheds.
The Bluebelt System has been engineered down to the plants: native species like pickerelweed – planted throughout the Bluebelt – help filter the stormwater and absorb nitrogen and phosphorous, instead of letting it reach local water bodies. And, the Bluebelts also provide Staten Island with a native habitat for local wildlife and public green spaces.
The Bluebelt program has received national and international attention from stormwater professionals looking for a sustainable model for flood control. DEP has invested a lot in the Bluebelts, and plans on continuing that commitment. The Agency plans to spend more than $22 million on developing and maintaining the current Bluebelt lands and also plans to spend about $150 million to acquire new land in the next ten years, and approximately another $105 million to construct more Bluebelts.
In addition to the Bluebelts, the Agency is very active with projects on Staten Island, including massive upgrades to the borough's water distribution and sewer infrastructure. Soon, DEP will partner with the Port Authority to construct a new $250 million water tunnel to provide redundancy for the Staten Island water supply system. In total, DEP budgeted $361 million for sewer-related projects from FY 2010 to FY 2014. Finally, DEP and the State Department of Environmental Conservation will invest $258 million to rehabilitate the closed Brookfield Avenue Landfill.
---