---
Stories from DEP is a collection of feature articles
published in DEP's internal newsletter, Weekly Pipeline.
This article was originally published June 1, 2010.
---
Quality Control
The Bureau of Water Supply's Division of Distribution Water Quality Operations (DWQO), managed by Salome Freud, is on the front line of ensuring and maintaining the City's water quality. Every year they conduct more than 330,000 tests in the lab and an additional 116,000 in the field. This comes after more than 230,000 tests are performed upstate by Chief Lori Emery's Division of Watershed Water Quality Operations. If it sounds like a lot, just remember that nine million people depend on New York City's water – a resource that people literally cannot do without.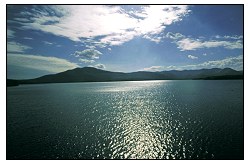 On a daily basis, members of DWQO look for pH levels, chlorine, temperature, turbidity, fluoride, total coliform, and other indicators. If any unusual results are observed, DWQO investigates further to get a clearer picture, or reaches out to other bureaus – like the Bureau of Water and Sewer Operations – for assistance. These tests give DEP a picture of what's happening in DEP's vast underground water delivery network. They can also help target problem areas so the Agency can take appropriate action.

However, there's a lot more that goes into protecting NYC's drinking water. DEP just released the findings of a year-long study, which confirmed that there is no risk from pharmaceuticals and personal care products (PPCPs) in NYC's drinking water. Over the last year, BWS's Division of Distribution Water Quality Science and Research (DWQSR), tested for 78 PPCPs and found trace amounts of 16 of them in the watershed. But, just because something is detected, doesn't mean it's dangerous. For instance, ibuprofen is present, but the concentration is so low that you'd need to drink 846,000 glasses of water in a single day to get the dose contained in one over-the-counter tablet. These results – along with the hundreds of thousands of tests DEP does each year on the water supply – should reassure everyone that NYC's water is still the best in the world. This important study was a team effort led by DWQSR and DWQO, including Dave Lipsky, Chief, Distribution Water Quality Science and Research, Carla Glaser, Section Chief, Distribution Water Quality and Planning, Ian Hurley, Deputy Chief, Distribution Water Quality Laboratory Operations, and Tim Martin, Research Scientist.

The PPCP report was released along with the annual Drinking Water Supply and Quality Report that updates DEP account holders and New Yorkers on the state of the water supply. The report includes comprehensive information on the various programs (such as land acquisition) and ongoing capital improvements (like the Croton Water Filtration Plant) that benefit the City's water supply.
---