---
Stories from DEP is a collection of feature articles
published in DEP's internal newsletter, Weekly Pipeline.
This article was originally published May 18, 2010.
---
Remembering Lieutenant John J. Quinlan
Last week, the State of New York Police Officers Memorial and the National Law Enforcement Officers Memorial recognized the remarkable service of Lieutenant John J. Quinlan, a 16-year veteran of the Board of Water Supply Police (the precursor to DEP's Police), whose career exemplified the scope and service of the officers who protect our water supply every day. He died tragically while on patrol on October 2, 1953.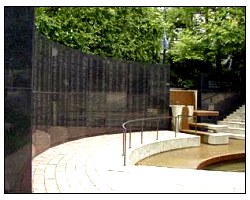 He is the first DEP Police officer to be honored for making the ultimate sacrifice for New York City. Including him on both of these memorials is a fitting tribute to his family and all of the hardworking DEP Police officers who are on the front lines every day.

Lieutenant Quinlan's career began in 1937. He distinguished himself and rose through the ranks quickly, ultimately obtaining the rank of Lieutenant in 1941. His work focused on many vital issues: he investigated worker fatalities at critical water infrastructure construction projects, trained new recruits, and protected the City's most precious natural resource. He once aided a fellow officer involved in a serious motorcycle accident, and provided an emergency blood transfusion to help in his recovery. During World War II, he served in the U.S. Navy as a Specialist Second Class for 18 months.

Although he served nearly sixty years ago, much of Lieutenant Quinlan's work is still relevant today. After the outbreak of World War II, Lieutenant Quinlan and his fellow officers guarded our water infrastructure against attacks. Lieutenant Quinlan was intricately involved in all investigations dealing with potential sabotage to the water supply, and worked with the NYPD, State Police, and FBI to protect the City. To this day, we continue those efforts: our water supply network remains a high-value target that demands protection.

"This long overdue recognition will serve as a lasting reminder and tribute to Lieutenant Quinlan and his family for the ultimate sacrifice he paid while serving the public and protecting our water supply," said Kevin McBride, the Deputy Commissioner for DEP Security.

At the time of his death, Lieutenant Quinlan was survived by his wife Rose and his four children: Patrick, Michael, Rosanna and Carol.
---