---
Stories from DEP is a collection of feature articles
published in DEP's internal newsletter, Weekly Pipeline.
This article was originally published January 26, 2010.
---
BWSO: A Bureau For All Seasons
Ernie Cavagnaro, Dennis Delaney, Chiefs of Maintenance and Repairs, along with Tasos Georgelis, Acting Director of Field Operations, are clear about one thing — their work for the Bureau of Water and Sewer Operations (BWSO), led by Deputy Commissioner Jim Roberts, has few typical days.
Water main break repair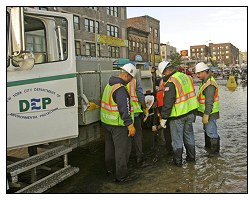 No matter the season, it's a 24-hour operation. The cold months of winter lead to an increase in water main breaks, although breaks can and do occur throughout the year. Spring and summer bring above-average flooding complaints, and the summer is the peak season for hydrant alerts. Falling leaves can clog catch basins during the autumn months.

Water main breaks can be a particular challenge given their unpredictability. "You don't select the time of a water main break, it picks it for you, and it frequently happens during off hours —at night, weekends, or a holiday," says Tasos. And since an average water main is 12 inches in diameter but can range from 6 to 84 inches, the water flowing on the street can be minor or quite dramatic as shown in the photo above.

Emergency calls and routine work are handled 24/7 by 90 crews working out of 20 yards located throughout the five boroughs. The sewer maintenance yards handle sewer back-ups, clogged catch basins, and flood complaints. Water maintenance yards respond to water leaks, distribution problems and fire hydrants that may be open, leaking, or inoperable. They also respond to major fires to assure that water is available for FDNY and work with other city agencies in many emergency scenarios. Repair yards cover both sides of the system, dealing with water mains, hydrants, and sewers. They do the hard work of digging and repairing our underground infrastructure in a maze of underground pipes, regardless of the weather or time of day. These crews work over three shifts: mornings, afternoons and midnights including holidays and weekends.

With over 14,000 miles of water and sewer mains, approximately 141,000 catch basins, and over 109,000 fire hydrants in New York City, Ernie, Dennis and Tasos, along with the women and men of Field Operations, are on DEP's front lines every day.
---