Updated: February 28, 2007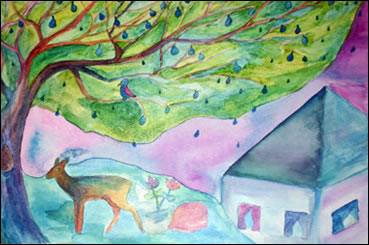 2006 The Water Conservation Art and Poetry Contest Winners
Every year, the Department of Environmental Protection (DEP) asks fifth and sixth grade students from public, private, and parochial schools throughout the City to submit original works of art and poetry that relate to water conservation, water quality and wastewater treatment. This year the DEP partnered with National Audubon Society to help young people become aware of native wildlife and the protection of the habitat that supports them. Entries were judged on their originality, craftsmanship, and creativity by selected reviewers from the City's environmental education community.
The Water Conservation Art and Poetry Contest provides students with a wonderful opportunity to learn more about the City's water and wastewater supply systems, and creatively express what they learn. Students created artwork using various media and poetry. The beauty, maturity, and insight of each entry illustrated the students' understanding of various water issues.
On May 11th, a ceremony at Cooper Union's Great Hall in Manhattan, co-sponsored by Consolidated Edison, was held to honor more than 300 students from over 80 schools. All winning entries were displayed, and borough winners were called to the stage to receive awards from Public Affairs Director Charles Sturcken. Representatives from National Audubon Society, the New York City Department of Education, Prospect Park Alliance and Consolidated Edison were there to offer congratulations to all the winners.
Eleven entries created by 11 students, received awards as the borough winners of the contest. The winners for art submissions were from the following schools:
Visitation School - Bronx
PS 102 - Brooklyn
St. Elizabeth School - Manhattan
PS 102 - Queens
St. Joseph - St. Thomas - Staten Island
The winners for poetry submissions were from the following schools:
PS 18 - Bronx
IS 201 and PS 16- Brooklyn
PS 129 - Manhattan
PS 133 and MS 158- Queens
PS 1 - Staten Island
Mr. Sturcken congratulated all the winners and thanked the audience of participants throughout the City for their excellent efforts in helping to protect and conserve a precious resource.
Winning Artwork:
Click for larger image.

Page will appear in new browser window.

Click for larger image.

Page will appear in new browser window.

Click for larger image.

Page will appear in new browser window.
Winning Poetry:
Clear as a Diamond
Clear as a diamond
Baby trout struggle to survive the current
Mayflies at the top looking for food
Tiny creatures swimming
Fish looking for their prey
Stones hiding creatures not seen
Clear as a diamond
Racing the wind down the mountains into a reservoir
Hiding memories of peoples homes covered by water
Water for us to drink
Clear as a diamond
Water comes out of the faucet
People using it for drinking and cleaning and cooking
Water going to the people who need it.
Water Conservation Poem
This poem is about conservation,
To help it will take a lot of determination.
Water saves us from dehydration,
Some people think this is an exaggeration.
Water helps plants grow,
After storms, we can see beautiful rainbows.
Without water things will wither and die,
Water is limited I will not die.
All Earth depends on water to survive,
When you wake up you may use water to feel alive.
When you waste water, think about this first,
We also use water to quench our thirst.
We use water to wash our dishes,
Water is where we keep our pet fishes.
I hope you are listening to me
I'm begging you on my knees, conserve water please.
Water
By the sunlight and the moon,
The water glows.
The reflection and it's shine
That's what it shows.
To be fresh, to keep fresh
That's what we need.
To water, and feed
A tiny seed.
Water is important
To our environment
To our world.