---
Faces of DEP is a series of profiles highlighting
the work and mission of DEP Employees.
We invite you to learn more about what it means to work for the
NYC Department of Environmental Protection.
---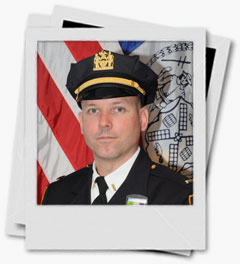 Name: Tavan
Position: Environmental Police Officer
Bureau: Police and Security
Protecting New York City's water supply from terrorism, pollution and crime is a tall order, but approximately 200 DEP Police Officers step up to the task every day. The DEP Police are all highly trained individuals with a unique set of skills and equipment designed to protect the water supply.  As an environmental police officer, Tavan is part of a team responsible for proactive patrol duties focused on counter terrorism and environmental concerns affecting the watershed. Through the use of stationary posts, patrols, surveillance, investigation, and innovative technology, Tavan and the rest of the DEP Police are responsible for more than 2,000 square miles of upstate watershed along with critical locations in the Bronx.
The DEP Police's mission resonated with me.

– Tavan
"For years, I wanted to join the police force. After September 11th, I knew it was time for me to step up and commit," Tavan said. "The DEP Police's mission resonated with me because it offered an opportunity for me to protect millions of people from terrorism and crime, both in the city and upstate."
Tavan, a recent graduate of the FBI National Academy, has been a DEP Police Officer for more than ten years, rising to the rank of Lieutenant in the Ashokan Patrol Unit. Of all of his responsibilities, Tavan most enjoys the time he has spent assisting in revamping the training unit and working with new recruits. "Many of them enter as kids with no law enforcement background," Tavan said. "But when they leave, they are well-trained Environmental Police Officers. To see that transformation is very gratifying."
Answering the Call to Civil Service
The City fills many of its positions through the Civil Service Process -- a process guided by the New York State Civil Service Law. The law is in place to help ensure that the hiring process is competitive and fair. Generally, the City uses examinations to measure a potential candidate's "merit" and "fitness" for the particular position. Taking an examination is the start of the hiring process that may lead to you getting a job with the City.