---
Faces of DEP is a series of profiles highlighting
the work and mission of DEP Employees.
We invite you to learn more about what it means to work for the
NYC Department of Environmental Protection.
---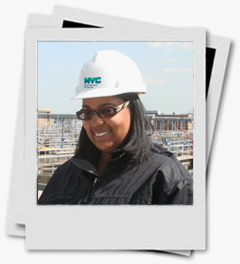 Name: Millie
Position: Environmental Engineer
Bureau: Wastewater Treatment
As an Environmental Engineer, Millie stands at the forefront of protecting the City's waterways, both for the public and for its diverse marine life. After beginning her career at DEP as an intern engineer, she was assigned as a Process Control Engineer within the Bureau of Wastewater Treatment. In this role, her responsibilities include monitoring and controlling sewage and sludge processes to ensure optimal operation of the plant within federal, state, and City guidelines.  More broadly, she has helped New York City's waterbodies become the cleanest they have been in over 100 years of testing.
I 've been fortunate to be able to combine the theories learned in college with the field experience gained throughout my career.

– Millie
Millie received a Bachelor's degree in Chemical Engineering from Manhattan College, is a licensed New York State Professional Engineer and a certified Grade 4 NYS Operator. "When I joined DEP, I knew that it would be a great learning experience for me and I would have many opportunities for growth and advancement," Millie said. "I've been fortunate to be able to combine the theories learned in college with the field experience gained throughout my career."
Over the course of her career, Millie has overseen operational changes through innovative new equipment while evaluating the impacts of new modes of operation. Millie is currently working on a citywide initiative to enhance nitrogen removal from processed wastewater. As part of the City's $2.6 billion investment in wastewater infrastructure, Hunt's Point Wastewater Treatment Plant has recently undergone a series of major retrofits as well as the construction of ancillary facilities to implement the City's first full Step Biological Nutrient Removal Process. In recognizing the historic improvements made to New York City's environment as well as determining the best path toward even greater innovations, it is people like Millie who will provide needed expertise—and who deserve our thanks.
Answering the Call to Civil Service
The City fills many of its positions through the Civil Service Process -- a process guided by the New York State Civil Service Law. The law is in place to help ensure that the hiring process is competitive and fair. Generally, the City uses examinations to measure a potential candidate's "merit" and "fitness" for the particular position. Taking an examination is the start of the hiring process that may lead to you getting a job with the City.