---
Faces of DEP is a series of profiles highlighting
the work and mission of DEP Employees.
We invite you to learn more about what it means to work for the
NYC Department of Environmental Protection.
---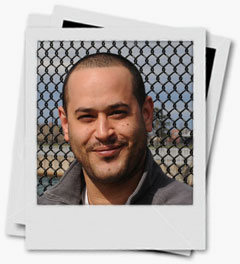 Name: Louis
Position: Supervisor, Watershed Maintenance
Bureau: Water and Sewer Operations
Before the more than one billion gallons of drinking water that New Yorkers consume each day flows from your tap, it makes a stop at the Hillview Reservoir in Yonkers, New York. This reservoir marks the point at which upstate water first enters the city's complex distribution system. As a Watershed Maintenance Supervisor, Louis is responsible for overseeing chemical treatment operations, which disinfect the water, balance pH levels, and prevent corrosion within the distribution system.
Seeing a suggestion I presented applied in the field is a gratifying feeling.

– Louis
Louis began his career as a Watershed Maintainer in 2006 before he was promoted to Watershed Maintenance Supervisor. He holds a bachelor of Science in Business Management as well as numerous professional certifications including IIB Water Treatment License, Hawoper Chlorine Specialist, and  Facility Emergency Coordinator. "I joined DEP because I knew I would have the opportunity to obtain a challenging, growth-oriented position at an agency that prides itself on innovation," Louis said.
Louis is an active member of the Reservoir Operations Employee Participation Committee, which is a subcommittee of the Risk Management Program. As a member, Louis addresses employee concerns, reviews piping and instrumentation diagrams, processes hazard analyses, and provides suggestions to improve the overall facility operations. "Seeing a suggestion I presented applied in the field is a gratifying feeling, and makes me feel like I can truly make a difference," Louis said.
Answering the Call to Civil Service
The City fills many of its positions through the Civil Service Process -- a process guided by the New York State Civil Service Law. The law is in place to help ensure that the hiring process is competitive and fair. Generally, the City uses examinations to measure a potential candidate's "merit" and "fitness" for the particular position. Taking an examination is the start of the hiring process that may lead to you getting a job with the City.