---
Faces of DEP is a series of profiles highlighting
the work and mission of DEP Employees.
We invite you to learn more about what it means to work for the
NYC Department of Environmental Protection.
---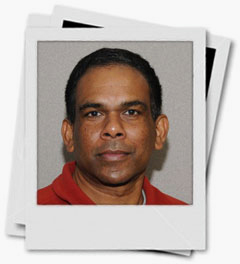 Name: Carlstein
Position: Research Scientist
Bureau: Environmental Compliance

DEP is the city agency responsible for regulating the removal of asbestos. Asbestos is made up of fibers so small that they can be inhaled. Because they're virtually indestructible, they can lodge themselves in the lining of the lungs and create scar tissue, which can then cause various diseases, including cancer. Working as the Director of Enforcement in the Asbestos Control Program, part of the Bureau of Environmental Compliance, Carlstein investigates asbestos-related issues citywide. From building collapses to illegal asbestos dumping, Carlstein investigates construction sites to ensure that New Yorkers are protected from this hazardous material.
DEP offered me an opportunity to further my career in a supportive yet challenging environment.

– Carlstein
Carlstein joined DEP in April 1987 as a part-time office aide, while pursuing an undergraduate degree in Environmental Science and Biology. He also holds Master's degrees in Safety Engineering, Industrial Engineering and Business Administration and is both a Certified Safety Professional and a Certified Security Professional. "I enjoyed my part-time work at DEP, and after I graduated from college, I decided to stay on as an Industrial Hygienist," Carlstein said. "DEP offered me an opportunity to further my career in a supportive yet challenging environment."
One of the most exciting cases Carlstein has worked on resulted in a massive criminal investigation into various contractors. As part of a sting operation with various law enforcement agencies, Carlstein was asked to inspect a building where one of the abatement contractors was removing asbestos late one night.  He ultimately caught them red-handed illegally removing asbestos material and issued several violations as well as a criminal charge for bad rigging. Carlstein has been recognized by federal agencies and the US Attorney's office as an expert in his field. In 2009, Carlstein served as a captain in the US Army in Iraq and has consulted for the US Marshal's Office.
Answering the Call to Civil Service
The City fills many of its positions through the Civil Service Process -- a process guided by the New York State Civil Service Law. The law is in place to help ensure that the hiring process is competitive and fair. Generally, the City uses examinations to measure a potential candidate's "merit" and "fitness" for the particular position. Taking an examination is the start of the hiring process that may lead to you getting a job with the City.