Newtown Creek Nature Walk
Scavenger Hunt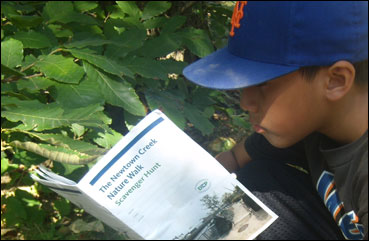 On the Scavenger Hunt, students will discover the many intriguing stories about Newtown Creek, including: where the Native Americans hunted and fished in the area; why the tides affect the flow of the Creek; why Greenpoint was famous for its shipyard and cooperage; and what are the processes of the Newtown Creek Wastewater Treatment Plant.
The Scavenger Hunt is geared for students in second through sixth grade; however high school students may also find the scavenger hunt interesting and fun. It will take approximately two hours to thoroughly complete the Scavenger Hunt. You may want to put star stickers on the booklet cover to acknowledge the student's work.
Please feel free to contact the educationoffice@dep.nyc.gov if you have any questions about the Newtown Creek Scavenger Hunt.
Below is the Scavenger Hunt booklet. The Scavenger Hunt was designed to be easily printed on 8.5″ x 11″ sheets, and then folded in half to make a small booklet.
Other Newtown Creek Nature Walk Links