Great Books and Web Sites for Children About Sound and Noise
Books
Allen, Jonathan. Don't Wake the Baby: An Interactive Book with Sounds..Cambridge, Massachusetts: Candlewick Press, 2000.
A noisy, battery-driven tab book. Mom goes out for the evening and leaves Dad with the sleeping baby. Dad tries not to wake the baby but has a hard time. Ages: 4-8.
Berenstain, Stan and Jan Berenstain. The Berenstain Bears Get the Noisies.. New York: Random Library
The noises just keep coming for the Berenstain bears. But Papa Bear may have the perfect cure for all that noise. He yells, "Quiet!" Ages: 4-8.
Bernstein, Margery. Stop That Noise!. Photographs by Dorothy Handelman. Brookfield, Connecticut: Millbrook Press Trade, 1999.
Two boys and a girl who distract their families and teacher with noise form a band at the suggestion of their teacher. Ages 4-8.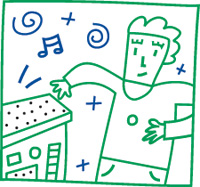 Bronzaft, Arline L., Ph.D. Listen to the Raindrops. Illustrated by Steve Parton. New York: League for the Hard of Hearing, 2000.
A rhyming adventure led by a mouse that invites the reader to listen to different sounds and introduces the concept of noise in the environment. Ages: 4-8.
Carle, Eric.The Very Quiet Cricket. New York: Putnam Publishing Group, 1997.
A baby cricket cannot make noise when he rubs his wings together. Ages: baby-preschool.
Cleary, Beverly. TBeverly. The Hullabaloo ABC. Illustrated by Ted Rand. New York: William Morrow & Company, 1998.
A clamorous celebration of noise and commotion originally published in 1960. Ages: 3-8.
Cobb, Vicki. Bangs and Twangs: Science Fun with Sound.. Illustrated by Steve Haefele. Brookfield, Connecticut: Millbrook Press, 2000.
This book in cartoon format is rowdy fun with plenty of practical hands-on activities. Ages: 9-12.
Cobb, Vicki. Perk Up Your Ears: . Illustrated by Cynthia C. Lewis. Brookfield, Connecticut: Millbrook Press, 2001.
An interactive book on the ear and how sound is produced and travels to the brain. Each topic carries a hands-on activity to get the point across. Ages 9-12.
Fuge, Charles. Yip! Snap! Yap!. Berkeley, California: Tricycle Press, 2003.
Children are invited to make dog noises, and romps through a happy doggy world. Ages: baby-preschool.
Gliori, Debi.Poems Go Clang!: A Collection of Noisy Verse.Cambridge, Massachusetts: Candlewick Press, 1997.
A collection of poems by some famous poets celebrating noisy sounds. Ages 4-8.
Inseth, Zachary.Noise Pollution: Earth's Conditions Series. . Chanhassen, Minnesota: Child's World, 1999.
Covers ways in which human activity is negatively affecting the earth and its inhabitants. Ages: 9-12.
Janowitz, Tama.Hear That?. Illustrated by Tracy Dockray. New York: Seastar Publishing Co., 2001.
A silly onomatopoeic story with a slight mystery. A mother and son are watching TV when they hear a sound. They try to discover its source. Ages: 4-8.
Kuskin, Karla. City Noise. llustrated by Renee Flower. New York: Harper Collins, 1994.
A read-aloud that captures the fast-paced rhythms of the urban beat. Celebrates the cacophonous energy of city life through the ears of a little girl. Ages 4-8
Levine, Shar and Leslie Johnstone. The Science of Sound and Music. New York: Sterling Publications, 2000.
Explores physics of sound through a series of activities using fairly common materials. Ages: 9-12.
McGovern, Ann. Too Much Noise. Illustrated by Simms Taback. New York: Houghton Mifflin, 1967.
Peter complains that his house is too noisy, so the wise man advises him to bring some animals in his home to drown out the sounds. Ages: 4-8.
Murphy, Mary. Please Be Quiet!. New York: Houghton Mifflin Co., 1999.
A young penguin makes a lot of noise in the house and is told to go outside until he can come up with ways to play quietly. Ages: baby-preschool.
Renton, Alan. Lost Sounds. Caithness, Scotland: Whittles Publishing, 2001.
The development of sound signals along Britain's rugged coast. Ages: 10+
Sabbeth, Alex.Alex. Rubber-Band Banjos and Java-Jive Bass: Projects and Activities on the Science of Music and Sound. Illustrated by Laurel Aiello. New York: John Wiley & Sons, 1997.
Basic information about sound, rhythm, and reading music along with instructions for making instruments. Ages: 9-12.
Showers, Paul. Listening Walk..Illustrated by Aliki. New York: HarperCollins Children's Books, 1991.
A father and child take a walk and listn to the sounds around them. Ages: 4-8.
Spinelli, Eileen.Song of the Whooping Crane. Illustrated by Elsa Warnick. Grand Rapids, Minnesota: Eerdmans Publishing Co., 2000.
Eileen Spinelli lovingly introduces young readers to the seasonal rhythms and unique grace of these endangered creatures. Ages: 9-12.
Wright, Lynne. The Science of Noise .New York: Rain Tree/ Steck Vaughn, 2000.
Discusses the sources of sound, how it travels, how we hear it, and how it can be changed. Ages 4-8.
Great Sound and Noise Web Sites
http://www.sci.mus.mn.us/sound/nocss/credit.htm
This site is called the Sound Project, which is a collaboration between the Minnesota Orchestral Association and the Science Museum of Minnesota. It includes discussions and activities in which students can participate.
http://library.thinkquest.org/19537/Main.html
The Soundry is an exciting, interactive, and educational website about sound. It covers everything from the most basic concepts of what sound actually is to the specifics of how humans perceive it.
http://www.nonoise.org
This website is organized by the Noise Pollution Clearinghouse. It discusses various types of noise in the environment. Has good information for student research projects.
Other Resources/Organizations
The League for the Hard of Hearing is an organization that offers comprehensive information on exposure to noise and warning signs of hearing impairment. They offer hearing tests and host an International Noise Awareness Day annually. They also have a minimuseum with exhibits on sound and noise, including a model of the ear. The League offers ideas on how to reduce exposure to noise in the environment. They are located at 50 Broadway, 6th Floor, N.Y. 10004 (917) 305-7700. Their web site is: www.lhh.org.
The Council on the Environment for New York City is a not-for-profit organization that deals with many environment issues, including noise pollution. They offer flyers on noise and decibel levels and conduct workshops on noise in the environment. The Council also has ideas for student campaigns to reduce noise in local communities. They are located at 51 Chambers Street, New York, N.Y. 10007 (212) 788- 7900. Their web site is: www.cenyc.org.