Digester Egg Tour
Information and Registration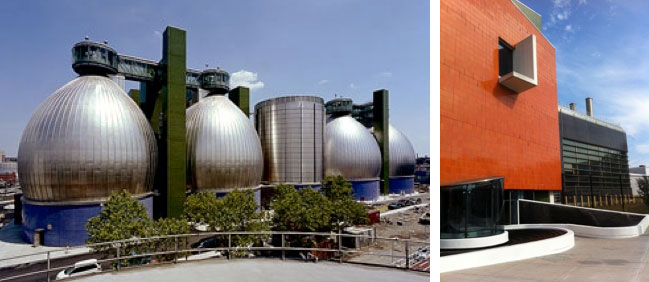 The New York City Department of Environmental Protection hosts monthly tours at our Newtown Creek Wastewater Treatment Plant in Greenpoint, Brooklyn. We invite you to learn more about what we do as an agency as well as the role this facility plays in the community.
The Digester Egg Tour includes an overview of the wastewater treatment process and access to the observation deck atop the digester eggs. Guests are treated to unobstructed views of the iconic Manhattan skyline. The Newtown Creek Wastewater Treatment Plant is the largest of New York City's fourteen treatment plants and is home to eight futuristic stainless steel-clad digesters. The digester eggs play a critical role in our city's wastewater treatment by processing upwards of 1.5 million gallons of sludge (the organic material removed from sewage) each day.
Tours are free and open to the public. Advance registration is required. Space is limited and tour dates tend to fill up quickly, so we recommend registering early to reserve your spot.
To view available tour dates and to reserve your spot, please submit the short registration form below. Each tour participant is required to complete a separate registration form. Please take a moment to make sure you enter your email address correctly, as we have no way to verify valid email addresses. Once you successfully register, you should receive an automatically-generated confirmation email containing tour details. If you do not receive this email within 2 hours, please submit your registration form again. You will need to bring your email confirmation with you for entry (printed out or displayed on your mobile device).
---
---
All guests will be required to sign a release form at the beginning of the tour. Guests under the age of 18 must have a release form signed by a parent or guardian. Sorry, no children under 12 are allowed.
Tours are held at the Visitor Center at Newtown Creek, located at 329 Greenpoint Avenue in Brooklyn, NY. Enter at the intersection of Greenpoint Avenue and Humboldt Street. Parking is available. For directions, click here.
Teachers, youth leaders, and other educators – please email Education Office to request tours and education programs at the Visitor Center at Newtown Creek.