Groundwater System for 2006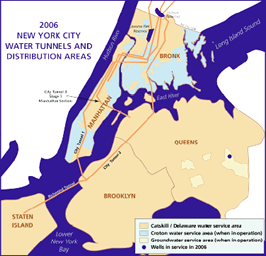 Between 1887 and 1996, the privately owned Jamaica Water Supply Company (JWS) operated a group of wells that served the communities of southeast Queens and portions of Nassau County. In 1996, New York City purchased the Queens portion of the JWS and took responsibility for the delivery of drinking water to those communities served by the groundwater wells. After acquiring the JWS wells, the Department of Environmental Protection (DEP) renamed the group of wells "the Groundwater System."
Comprised of 69 wells, the Groundwater System provides drinking water to fewer than 100,000 people in New York City. Residents within the system receive groundwater or a mix of ground and surface waters depending on demand and supply availability. In 2006, the Groundwater System (PWSID NY7011735) supplied an average of 1.3 million gallons per day (mgd) of drinking water from 1 well, less than 1% of the City's total usage.
Located in southeastern Queens, the Groundwater System covers an area of approximately 5.5 square miles. The neighborhoods connected to the Groundwater System include: Cambria Heights, Hollis, Holliswood, Jamaica, Kew Gardens, Queens Village, Richmond Hill, St. Albans, South Jamaica, and South Ozone Park.
Wells in Operation in 2006
The table below lists the wells that were in operation in 2006:
| Well* | Town | Aquifer | Depth (ft.) | Present Well Capacity (mgd) |
| --- | --- | --- | --- | --- |
| 5 | Hollis | Magothy or Cretaceous Formation | 275 | 1.73 |
* - Wells are each assigned a number for easy reference. These numbers may be followed by the letters A, B, C, or D. These letters indicated multiple wells housed at the same location. For example W6, W6A, W6B, W6C, and W6D are all distinct wells at the same address.
For a more extensive listing of all the Groundwater System wells, accompanied by detailed location, aquifer, depth and operational information, see:
Service Status Table (PDF)
Geology
An aquifer is a natural underground layer of porous, water-bearing materials (sand, gravel) usually capable of yielding a large supply of water. Three aquifers run the length of Long Island, which includes Brooklyn and Queens Counties: the Upper Glacial, which is the shallowest; the Magothy, which is the middle layer; and the Lloyd, which is the deepest. Formed approximately 60 million years ago, the three aquifers are separated by layers of clay.
Cross-Section of Brooklyn and Queens Aquifer (PDF)
For a more detailed geologic description of the aquifer system underlying Queens visit:
Treatment Information
All groundwater entering New York City's distribution system is treated with chlorine, fluoride, food grade phosphoric acid, and, in some cases, sodium hydroxide. New York City uses chlorine to meet the New York State Sanitary Code and federal Safe Drinking Water Act disinfection requirements. Fluoride, at a concentration of one part per million, is added to help prevent tooth decay and has been added since 1966 in accordance with the New York City Health Code. Phosphoric acid is added to create a protective film on pipes that reduces the release of metals such as lead and copper from household plumbing. Additionally, a sequestering phosphate is applied at several wells to prevent the precipitation of naturally occurring minerals, mostly iron and manganese, in the distribution mains and customers' household piping. Air stripper facilities also operate at several wells to remove volatile organic compounds (VOCs).
Operational Information - 2006
Well 5 of the Groundwater System was online in 2006 and was operated remotely via telemetering from Station 6, which is the headquarters for Groundwater Operations, located in Jamaica, Queens. This well was started and stopped on a daily basis depending upon distribution demands. In general, the well was started everyday between 5AM and 6 AM (as people start to wake up) and shut down when the system demand was met. Well 5 was then restarted around 3 PM as system demand increased and shutdown again later in the evening, when system demand decreased. The other 68 wells which comprise the Groundwater System were not used for drinking water distribution in 2006. These wells are either mechanically inactive, for emergency use only, or have poor water quality. This information is available on the Service Status Table.
Individual Well Information:
Well 5: Originally put into service in 1924, Well 5 was designed at a flow rate of 1200 gallons per minute (gpm). Water is pumped from the wellhead, or water source, through a water treatment plant in order to remove any VOCs from the water before it is discharged into the distribution system. Well 5 remained in service for the entire 2006 calendar year.
Groundwater Monthly Production 1996 – 2006 (PDF)
Groundwater Annual Production 1996 – 2006 (PDF)
Number of Wells in Operation 1996 – 2006 (PDF)
2006 Groundwater Production By Month (PDF)
Water Quality Data
Index Numbers
DEP assigns index numbers to sampling locations throughout the distribution system. The nomenclature of the index for a well sample location signifies the status of the water at a specific tap. An index number followed by the letters E, F or T denotes sampling sites that are treated, or finished groundwater. Well index numbers that have no letter after the number, or are followed only by the letters A, B, C, D, I or S are considered untreated, or raw water. Examples of untreated water IDs are W5 and W23A. Examples of treated water are W5E and W23AT. The following table illustrates this in greater detail:
| Index Numbers | Description |
| --- | --- |
| W##, W##A-D, I, S | Groundwater wells sampling points prior to final treatment |
| W##E | Effluent finished groundwater from wells with air-stripping |
| W##F | Finished groundwater effluent from wells without any special treatment |
| W##T | Treated finished groundwater effluent from sequestering/iron treatment wells |
Data Tables and Graphs
2006 Physical/Chemical/Microbial Parameters - Inorganic (PDF)
2006 Regulated Contaminants/Unspecified Chemicals - Organic (PDF)
2006 Undetected Physical/Chemical Parameters (PDF)
Definitions
GAC – granular activated carbon, a form of particulate carbon manufactured with increased surface area per unit mass to enhance the adsorption of soluble contaminants.
gpm – gallons per minute.
mgd – million gallons per day.
MTBE - Methyl Tertiary-Butyl Ether, formerly an additive to gasoline.
VOCs – volatile organic compounds, a class of organic compounds that includes volatile liquids.
Previous Years
Last updated May 29, 2007