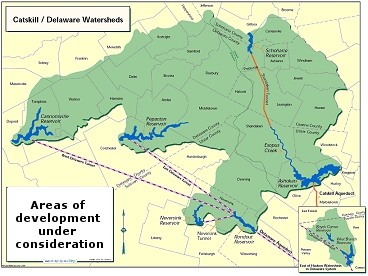 West-of-Hudson Hydroelectric Project
Overview
The New York City Department of Environmental Protection (DEP) has prepared and submitted a preliminary permit application with the Federal Energy Regulatory Commission (FERC) to study the development of hydroelectric power generation at four of its reservoirs in the Delaware and Catskill watersheds. The proposal is considering development on the Cannonsville, Pepacton, Neversink, and Schohaire reservoirs. On March 20, 2009 the FERC awarded a preliminary permit to the City giving it three years to complete the necessary studies to file for a license application. This is an open process that involves close collaboration with many federal and state regulating authorities, local political subdivisions, Indian tribes, and non-governmental entities. Publicly accessible documents/information produced during this process will be available on-line by following the links on this page. If you have additional comments please direct them to: zinniar@dep.nyc.gov and we will do our best to assist you.
Applications Documents (February 2012)
Preliminary Permit Application for the Pepacton and Neversink Hydroelectric Developments
Draft Application Files
Public Notices
Study Plans
The City of New York conducted a number of studies in support of a draft license application and two license exemptions for its West of Hudson Hydroelectric Project (FERC Project Number 13287). These studies reviewed topics including geology and soils; fish and aquatic resources; wildlife and botanical resources; wetlands, riparian, and littoral habitats; rare, threatened and endangered species; recreation and land use; archeological, cultural, historical developments and tribal resources; and socioeconomics.