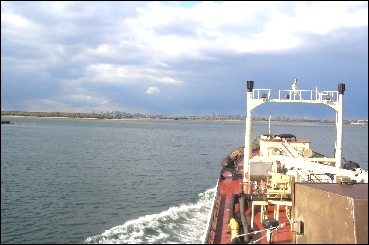 A Review of the "State of the Bay" Jamaica Bay Scientific Symposium
In October 2008 the NYCDEP convened a two-day, State of the Bay symposium highlighting emerging research on a range of issues impacting the ecology of Jamaica Bay, a unique and irreplaceable ecological resource for New York. The symposium was very successful.  There were nearly 100 participants, and based on responses from attendees, each found the symposium very informative. 
Audience members included many Jamaica Bay environmental stakeholder groups, regulatory agencies, academic institutions and concerned citizens.  The symposium included 19 speakers presenting information on a diverse range of scientific research topics that included; salt marsh dynamics, wetland trends, eutrophication issues, implementation of "keystone" habitat pilot projects and stormwater best management practice pilot projects within the watershed of Jamaica Bay.  The symposium was capped off by a boat tour of Jamaica Bay that captured all its splendid beauty.
As part of a management strategy identified in the Jamaica Bay Watershed Protection Plan, this was the first of many biennial symposiums that will be sponsored by NYCDEP and other watershed partners.  As NYCDEP and its many partners move forward to improve the ecological integrity of Jamaica Bay, these symposiums provide the framework to actively engage the scientific community, environmental groups, and regulatory agencies in the development of public policy that is based on scientific research. NYCDEP looks forward to actively working with its many partners and will continue to promote additional research efforts to help close some of the existing data gaps.
Symposium Presentation Material
Symposium Presentation material is available in PDF format below:
Current Biological Trends in Jamaica Bay
John Waldman PhD, Queens College
Jamaica Bay Bio-Blitz
Wetland/Estuary Trends in the Northeast Region
Carl Alderson, Northeast NOAA Restoration Center
Nitrogen – Effects on Wetlands
Cathy Wigand PhD, USEPA, Atlantic Ecology Division
Paleoecology of Jamaica Bay
Dorothy Peteet PhD, Columbia University, Lamont Doherty Earth Observatory
Eelgrass (Zostera marina) Restoration in Jamaica Bay: Initial Site Selection and Potential for Success
Chris Pickerell, Cornell Cooperative Extension
Denitrification and Habitat Benefits of the Eastern Oyster (Crassotrea virginica)
John Brawley, Saquish Scientific
Ecological Pilot Projects of Jamaica Bay Watershed Protection Plan
Dave Yozzo PhD, HDR Consulting
Attenuating Urban Runoff and Potential Habitat Benefits of Stormwater BMPs within Jamaica Bay Watershed
Marc Cammarata, PE, Philadelphia Water Dept
Ted Brown, Biohabitats
Wetland Loss – A Closer Look at Wetland Loss Research Activities in Jamaica Bay
Patti Rafferty (speaker) and Charles Roman, National Park Service Northeast Region
Effects of Mean Tidal Range on Jamaica Bay Wetlands
Larry Swanson, PhD, Stony Brook University
Salt Marsh die-back along the Atlantic Coast
Dave Osgood, PhD, Albright College
Biogeochemical and Structural Regulators of Spartina alterniflora
Paul Mankiewicz, PhD, Gaia Institute
Summer Nutrients and Phytoplankton Trends in Jamaica Bay
Raymond Sambrotto PhD, Columbia University, Lamont Doherty Earth Observatory
Circulation and Mixing: Implications for Sediment Transport
Robert E. Wilson, PhD (speaker) and Charles N. Flagg, PhD, Stony Brook University
Sediments: Current Models and Predictions for Tidal Hydrodynamics and Sediment Processes within Jamaica Bay
Henry Bokuniewicz PhD, Stony Brook University
Alisha Renfro, Stony Brook University
Lessons Learned – Chesapeake Bay Foundation (to come)
Terry Cummings, Chesapeake Bay Foundation
Related Links