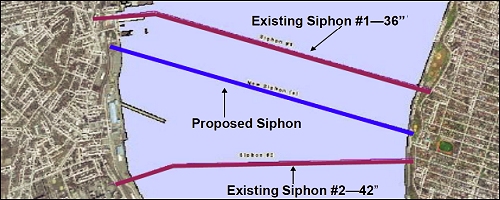 Staten Island Siphon Project
Overview
Staten Island Siphon Project. DEP  proposes to construct a water siphon that would replace the two existing, subaqueous water siphons located beneath Upper New York Bay between Bay Ridge, Brooklyn and Stapleton and Tompkinsville, Staten Island. The proposed siphon would provide 5 million gallons per day (mgd) of daily water supply to Staten Island under normal conditions. In emergency situations, the new siphon could supply on average 50 mgd, with a peak flow of 150 mgd, thus ensuring a redundant and reliable supply of water to Staten Island.
Schedule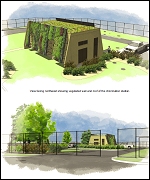 Construction of the Staten Island Siphon Project is scheduled for completion in 2014.
Cost
Project cost is estimated at $250 million.
Community Issues
The proposed action would not physically alter or displace any community facilities in Staten Island. There are 22 community facilities located within a one-quarter mile radius of the proposed action. No increased demand for community facilities in Brooklyn would be required and no existing community facilities within the study area would be directly impacted.
Related Documents and Links