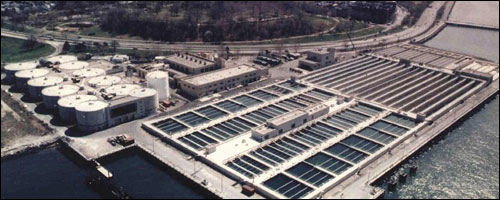 Owl's Head Wastewater Treatment Plant
Overview
The Owl's Head Wastewater Treatment Plant has been in operation since 1952, treating up to 120 million gallons of wastewater per day for the 758,007 New Yorkers it serves.  In an effort to continually reduce process odors at the Owls Head Wastewater Treatment Plant, the Department is undertaking a pair of operational upgrades to the existing Grit and Scum Building as well as a reconstruction of the existing Forebay.
Contract OH-33 is the construction of a new extension to the existing Grit and Scum Building.  This extension will serve to house the grit containers, which are currently located outdoors in a temporary tent structure, within a permanent odor controlled environment.  Four separate Wick's Law contracts were issued to complete the building, which includes steel H-piles, a new foundation, and a three floor reinforced concrete structure with brick and limestone façade.  It also includes plant roadway and drainage improvements as well as lighting improvements.  The principle work items include replacement of the existing cyclone degritters/classifiers, installation of a new container conveyor system, and installation of a new odor control system.
Contract OH-36 is the reconstruction of the existing Owls Head Forebay.  This contact includes repair of the forebay cracks, repair and replacement of Forebay sluice gates and actuators.  It also includes the installation of a keyed plant interlock system designed to facilitate the operation of the engine generators and the rerouting of two 4.16kV feeders..
Schedule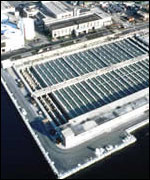 This project was completed in January 2011.
Cost
The total construction cost was $67 million.
Community Issues
None.
Related Documents and Links
DEP is making improvements to reduce odors at the Owl's Head Wastewater Treatment Plant in Bay Ridge, Brooklyn. During 2007, an odor assessment was performed by a DEP consultant, Malcolm Pirnie, to identify odorous processes. Also in 2007, a health impact study was done by RJ Lee under the direction of the City Council. DEP has a multi-million dollar commitment to continue reducing odors from the plant over the next few years.