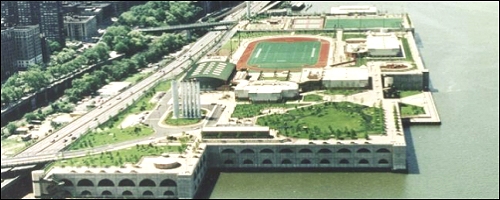 North River Wastewater Treatment Plant
Overview
The North River wastewater treatment plant is located on the Hudson River, west of the West Side Highway from 137th Street to 145th Street. The plant provides wastewater treatment for the hundreds of thousands of people who live and work in or visit the west side of Manhattan, from Bank Street in Greenwich Village to Inwood Hill at the island's northern tip. North River treats about 125 million gallons of wastewater every day during dry weather, and it is designed to handle up to 340 million gallons a day when the weather is wet.
Schedule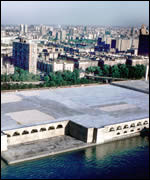 Schedule to be determined based on the following milestones:
Milestone M1 – Chemical System Upgrade
Milestone M2 – Electrical Substation Modifications
Milestone M3 – Odor Control Systems Upgrade
Milestone M4 – Process Air Blower System
Milestone M5 – Project Substantial Completion
The work in the 5 Milestones of Contract 35 is divided between 3 prime Contractors (G, E and H) and includes the installation of covers on the digester overflow boxes and new duct work and fans in this area to optimize odor control; demolition and modification of the existing thickener tank ventilation ductwork; installation of a new ductwork system in the Digester Gas Holder area; installation of new wet scrubbers in the South Odor Control system; installation of launder covers and odor control ductwork for the Final Settling Tanks; replacement of the chemical storage tanks and associated appurtenances in the South and West chemical Storage areas; rehabilitation of the secondary treatment bypass control system; addition of a process air blower; replacement of stainless steel duct with new Fiberglass Reinforced Plastic (FRP) duct for Headworks Ventilation; modifications to the electrical substation; installation of weir gates and other minor modifications to the aeration tanks; installation of a caustic fill station in South Odor Control area; and installation of a 2000kw Emergency Generator.
The improvements under Contract 35 are necessary for process optimization, odor minimization and compliance with current regulatory chemical bulk storage and disinfection requirements. The modifications will reduce the potential for the exhaust of odorous air and other emissions at the North River WPCP by containing and treating additional process areas at the plant.
NYSDEC has recently adopted federal criteria for Total Residual Chlorine (TRC) concentrations in the receiving water that resulted in TRC requirements being incorporated into the new SPDES permit. These revisions will achieve the significant reduction in chemical consumption due to improved mixing of the chemical in the Chlorine Contact Tanks thereby increasing the effectiveness to meet SPDES permit requirements. In addition, these revisions will have provisions of the uninterrupted operation of disinfection system in the event of a failure of primary system. Moreover, these revisions will provide added flexibility, simplicity and ease of maintenance in conjunction with the optimized performance.
Cost
Project cost is $202 million.
Related Documents and Links