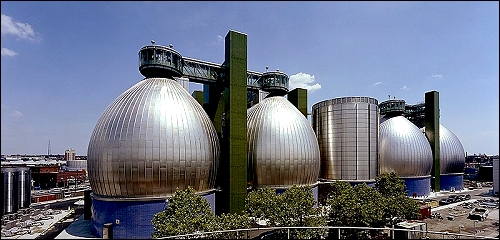 Newtown Creek Wastewater Treatment Plant
Overview
The Newtown Creek plant is the largest of New York City's 14 wastewater treatment plants. The plant serves approximately 1 million residents in a drainage area of more than 15,000 acres (25 square miles). The plant began operation in 1967 and currently treats 18% of the City's wastewater with a capacity of 310 million gallons per day (mgd) during dry weather. Upgrade work began in 1998 and will eventually raise plant capacity to 700 mgd during wet weather storms. The upgraded plant will serve a projected population of 1.33 million residents within the relevant drainage area by 2045.
Schedule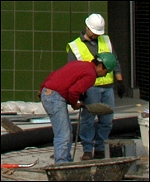 Upgrade work began in 1998 and will be completed in 2013.
Cost
Project cost of Newtown Creek upgrade is $5 Billion.
Community Issues
DEP meets monthly with the Newtown Creek Monitoring Committee (NCMC), a committee of volunteers from the Greenpoint community, which was established in 1996 pursuant to a City Council resolution allowing the City to acquire property required for the upgrade of Newtown Creek WWTP. NCMC members are appointed by the local City Council member, the Brooklyn Borough President and Brooklyn Community Board #1. NCMC, with the assistance of its technical consultant, reviews and makes recommendations about activities associated with the treatment plant upgrade in order to mitigate potential impacts to the Greenpoint Community. NCMC worked with DEP to identify and design community amenities such as the Nature Walk, and is one of the longest standing citizen oversight committees in New York City.
Related Documents and Links
10-22 Press Release:  DEP Opens New Microbiology Lab at Newtown Creek Plant (03/09/2010)