Gowanus Canal

Overview
The Gowanus Canal flushing tunnel system was originally constructed in the early 1900s to provide flushing of the Canal by withdrawing water from the head of the Canal, conveying it through a 1.15-mile tunnel, and discharging at Buttermilk Channel. In the late 1990s, the facility was rehabilitated and reactivated to bring water from Buttermilk Channel into the head of the Gowanus Canal. The reactivation resulted in dramatic improvements to water quality within the canal, especially dissolved oxygen.
To further improve water quality in Gowanus Canal and address operational requirements, the Department has initiated the Gowanus Facilities Upgrade Project which includes the following components:
Modernizing the Flushing Tunnel Pumping System to replace the single propeller configuration with 3 pumps to provide redundancy and increase the average flow to approximately 215 million gallons per day. The new configuration will allow for maintenance of flow even when one or two pumps are being repaired or maintained.

Installation of a CSO screening device to remove floatable and other solid materials from CSO events at the head end of Gowanus Canal. Screening will be provided for approximately 50% of the CSO discharge volume to Gowanus Canal.

Upgrade of the Wastewater Pumping Station to increase the pumping capacity and construction of a new force main to relocate the discharge. These improvements will decrease the frequency and intensity of CSO events at the head end of the Canal. Annual CSO discharge volume will be decreased by approximately 34%.
Water quality in the Gowanus Canal will be improved by increasing the dissolved oxygen concentrations, and decreasing coliform levels, and floatables.
Schedule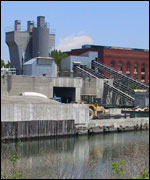 Construction started in September 2009. The project will be complete in Spring 2014.
Cost
The cost of the construction for the Gowanus Facilities Upgrade is $160 million.
Community Issues
The improvements to the Flushing Tunnel, and installation of the new wastewater force main, will require a 26-month shutdown of the Flushing Tunnel operation. To mediate issues associated with the shut down, an Oxygenation Transfer System will be installed to maintain dissolved oxygen concentration standards in the canal.
Street work on Degraw Street near Columbia Street will require local full closure of Degraw Street, east of the intersection between Columbia Street and Tiffany Place, for approximately 6-months and a second one-lane closure of Degraw Street for approximately 9 months. A one-lane closure will be required on Butler Street between Bond and Nevins streets for a 1-year duration. One-lane closures will also be required on Degraw Street at Tompkins Place for two (2) 9-month durations.
Related Documents and Links