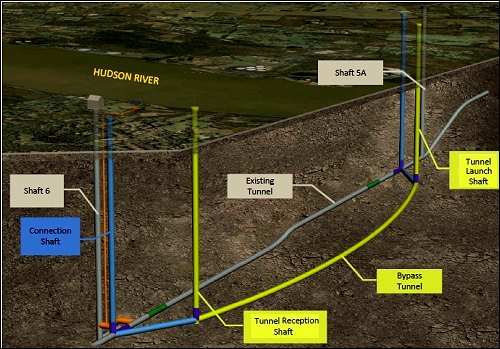 Repair of the Delaware Aqueduct Rondout-West Branch Tunnel
Overview
Since the 1990s, DEP has been monitoring leaks in a portion of the aqueduct that connects the Rondout Reservoir in Ulster County to the West Branch Reservoir in Putnam County, specifically in the towns of Roseton and Wawarsing. The leaks release between 15 and 35 million gallons of water a day, depending on the amount of water the aqueduct is carrying. Years of comprehensive inspections, testing, and study indicate that cracking and leakage are occurring in the aqueduct where it passes through limestone, a rock more susceptible to wear and tear than sandstone, shale, gneiss and granite that form the vast majority of the tunnel.
DEP will build a three-mile bypass tunnel around a portion of the aqueduct that is leaking in Roseton in Orange County, and repair other leaks in Wawarsing, in Ulster County, from the inside of the existing tunnel.  The three-mile bypass tunnel will run east from the Town of Newburgh in Orange County, under the Hudson River to the Town of Wappinger in Dutchess County, on the east side of the Hudson. The construction of the bypass tunnel and the repair of the lining will ensure that DEP can continue to deliver high quality drinking water every day for decades to come.
Schedule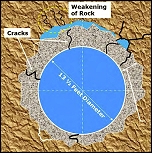 Under the plan, DEP will break ground on the bypass tunnel in 2013, and complete the connection to the Delaware Aqueduct in 2019.
Cost
The bypass tunnel and internal repairs will cost approximately $1.2 billion, and water projects to supplement the city's supply during part of the construction period will cost approximately $900 million.
Related Documents and Links