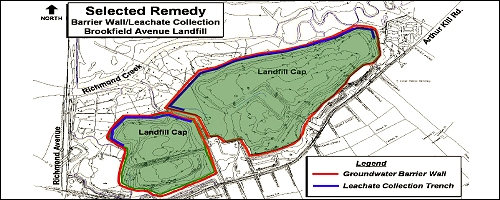 Brookfield Landfill Remediation
Overview
The Brookfield Avenue Landfill is a former municipal solid waste disposal site, where toxic materials were illegally dumped in the 1970s. The project will cover the 132-acre solid waste disposal portion of the site with 2 million tons of soil and an impermeable landfill cap and turn the site into parkland. The remaining acres, a mixture of undisturbed land, forest, wetlands and streams, will require no remediation.
Schedule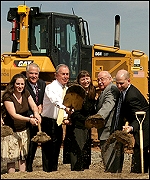 The project will be completed in 2018.
Cost
The cost of the Brookfield Landfill Remediation Project is $240 million.
Community Issues
DEP holds monthly meetings with the Brookfield Landfill Citizens Advisory Committee, a board of volunteers that works closely with the department on oversight for the remediation of the Brookfield Landfill. The committee is comprised of representatives designated by Community Board 3 and from the offices of Congressman McMahon, the Staten Island Borough President, the New York State Assembly and State Senate, and the City Council.
Related Documents and Links
PR- 143-10 (Press Release - Office of the Mayor) Mayor Bloomberg, Environmental Protection Commissioner Holloway, State Department of Environmental Conservation and Staten Island Officials Break Ground at Brookfield Landfill Remediation Project (04/05/2010)