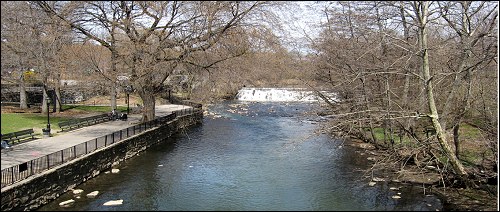 Bronx River Floatables Control Facilities
Overview
The Bronx River Floatable Control Facilities project is installing four below ground floatable control measures in three existing combined sewer overflow (CSO) outfalls to the Bronx River in the southern Bronx. The new floatables control facilities would serve Outfalls HP-004, HP-007 and HP-009. Street litter and other floatable debris, enter the combined sewer system during rain events.  Sometimes when the storm water and wastewater combine, the sewers reach their capacity; this then causes the regulators to direct the flow to the Bronx River through CSO outfalls. Either netting systems, that capture the floatable material, or bar screens, which do not allow the floatable material to leave the sewer system, are being installed to handle this floatable material during CSO events. The NYCDEP's City-Wide Floatables Study determined that 88 percent of floatables found in receiving waters of the New York Harbor complex could be attributed to sewer system discharges. There are five CSO outfalls which discharge to the Bronx River. Of these five outfalls, Outfalls HP-004, HP-007 and HP-009 contribute to over 99% of the storm and CSO overflow events that are discharged to the river.
The floatable control facilities for Outfalls HP-004 and HP-007 are being located in the West Farms section of the Bronx. The facility for Outfall HP-009 is being located in the borough's Soundview section.
Schedule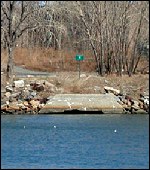 Construction started in June 2009. The estimated construction duration for the Bronx River Floatables Control Facilities is 3 years, completing in June 2012.
Cost
The cost of the construction for the Bronx River Floatables Control Facilities is $28 million.
Community Issues
The results of the project will have an immediate positive impact on the Bronx River and its surrounding community.  The aesthetic quality of water will be greatly enhanced with the removal the floatable material that would be seen without the floatable control facilities in place.
Work on Outfall HP-004 will require the closure of the sidewalk along West Farms Road adjacent to Public School 214.  Construction in the sidewalk has been scheduled to occur in the summer months when school is not in full session.  Noise and dust abatement measures are included in the contract to minimize the impact on the school.  Coordination with the school's principal is ongoing during construction.
Work on Outfall HP-009 will require the relocation of the bike path located in Soundview Park.  This relocation has been coordinated with the Parks Department.  The bike path will remain open and the construction zone secured and the public kept safe during construction.
Related Documents and Links
None