Carter Strickland, Commissioner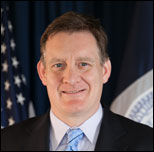 Carter Strickland was appointed to be the Commissioner of the New York City Department of Environmental Protection (DEP) on August 17, 2011. Under Mr. Strickland's leadership DEP has undertaken innovative operational efficiency, sustainability, health and safety, employee engagement, cultural change, and strategic planning initiatives. In addition, as the largest municipal, integrated water and wastewater utility in the United States, DEP plays a leading role in the industry's engagement in national and state regulatory issues and research projects.
Previously, Mr. Strickland served as the first-ever Deputy Commissioner for Sustainability at DEP, where he played key roles in developing DEP's strategic plan, green infrastructure solutions for the control of stormwater pollution, policies to clean up the unregulated residential and commercial heating sectors, and regulatory reform initiatives. Prior responsibilities include serving as the Senior Policy Advisor for Air and Water with the Mayor's Office of Long Term Planning and Sustainability, Assistant Clinical Professor and Director of Rutgers Environmental Law Clinic, and Assistant Attorney General with the New York Attorney General's Office, and Associate in private practice with a focus on antitrust, trade regulation, and intellectual property law.
Mr. Strickland is a graduate of Dartmouth College (A.B., 1990) and Columbia University School of Law (J.D., 1995), where he was Executive Editor of the Columbia Environmental Law Journal and a Harlan Fiske Stone Scholar. Following law school he clerked for the Honorable Joseph H. Young, U.S. District Judge, in Baltimore, Maryland.