During times of peak electricity demand or during an emergency, buildings participating in Demand Response programs are paid to shed electric load in order to reduce the strain on New York City's electricity grid. Shedding load at times of high demand also helps to limit the use of the most expensive and often dirtiest power plants, which are only fired up during peak demand. Because Demand Response programs help to protect electricity reliability and reduce greenhouse gas emissions, PlaNYC calls for the City to increase enrollment of both municipal and private buildings in such programs, also known as peak load management programs. Facilities meet the required reduction in electric demand by turning off discretionary equipment and lighting, raising space temperatures, or running back-up generators.
NYISO Demand Response Programs
Buildings with large energy loads can participate in one of the New York Independent Services Organization (NYISO) demand response program. The NYISO is responsible for the safe and reliable operation of New York State's electricity grid and the dispatch of electric power generators. To ensure that the electric grid is stable and that supply is able to meet demand at all times, they administer four demand response programs:
Emergency Demand Response Program (EDRP)
ICAP Special Case Resources Program (SCR)
Day Ahead Demand Response Program (DADRP)
Demand Side Ancillary Services Program (DSASP)
You can read more about each of these programs on the NYISO website.
New York City government participation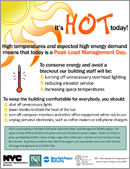 The City has been a supporter of demand response programs, participating with the New York Power Authority (NYPA) since 2002. Enrolled facilities make a commitment to curtail electric demand (shutting down discretionary loads) or by switching to backup generators to help citywide grid reliability when the grid is most vulnerable, usually during the hottest days of the year. In return, NYPA pays customers for each kilowatt reduced. As a participant in peak load management programs, the City is helping to prevent brownouts and blackouts, generating revenue for the City, and ensuring continued health, safety, and comfort for all New Yorkers.
Alert building tenants to Peak Load Days and encourage summer-time energy conservation with the PLM flyer (PDF opens in new window).
Download NYPA's Program Options (PDF opens in new window) to learn more information about NYPA's summer 2011 program. For more information on how your agency can participate, you can contact DEM.
In summer 2010, 65 facilities from 10 different City agencies participated in NYPA-managed demand response programs, reducing demand by an average of 12 megawatts on four separate peak load days. The Department of Education's (DOE) LaGuardia High School and the Department of Correction's (DOC) Rikers Island were awarded as top performers amongst other private and public institutions at the Annual NYPA Awards Luncheon (pictured). Reductions at Rikers Island alone accounted for 5.2 megawatts, providing DOC with an incentive payment of $100,000 for their performance.