Energy conservation at NYPD Forensic Lab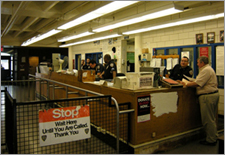 The Detective Bureau Forensic Investigation Division (FID) in Jamaica, Queens occupies a unique NYPD facility where crime scene evidence is scientifically analyzed. The laboratory was originally a Montgomery Ward department store built in 1931 and was converted to police use in 1992. Because of the scientific activities that go on there, maintaining indoor air quality and lighting quality are critical. In partnership with NYPD, DEM is proceeding with a two-phase energy conservation project at the Forensic Lab, based on the recommendations of a 2006 NYPA and consultant study.
Phase 1: The reconstruction of the interior lighting system includes the installation of new T8/electronic ballast fixtures and occupancy sensors that will shut lights off when spaces are unoccupied. The photo to the left illustrates a similar lighting upgrade at a different NYPD facility. The new fixtures, in addition to using less electricity, will improve lighting color, eliminate "ballast hum," and generate less heat. This $574,000 project will reduce electric use by nearly 400,000 kilowatt-hours annually. The project is currently in construction and is nearing completion.
Phase 2: The reconstruction of the HVAC (heating, ventilation and air conditioning) system will include the installation of a new 800 ton high efficiency chiller, variable speed drives for fans, and a new gas-fired hot water heater. The project will also expand and upgrade the building automation system. Phase 2 of the project will cost $5.7 million, and will reduce electrical use by 1,286,000 kilowatt-hours annually. Phase 2 is in final design, with construction expected to begin in the fall. The new HVAC system will be operational in time for the 2011 cooling season.