Solar Array at New York Hall of Science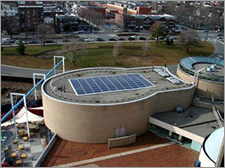 Located in Flushing Meadows - Corona Park in Queens, the New York Hall of Science (NYSCI) is an entertaining and educational children's science museum with 450 hands-on exhibits exploring science, technology, engineering and math. NYSCI is a host site for a 16 KW rooftop solar photovoltaic (PV) system, a joint project of the Department of Citywide Administrative Services, the Department of Cultural Affairs, and the New York State Energy Research and Development Authority (NYSERDA). NYSCI uses the solar PV system as an interactive learning tool for museum visitors, including those who visit the museum's website.
Beginning in December, you can see the sun's power at work on the roof of NYSCI at www.nysci.org/pv. The web page shows how much energy has been produced on a daily basis for the past week, and answers kid-friendly questions about how that energy would translate into powering various familiar household devices.
DCAS DEM is currently pursuing a total of more than three megawatts of solar PV in collaboration with DOT, DSNY, DEP, NYPD, DOHMH, and DOE through various projects. The City is installing thirteen systems with the support of federal stimulus funding, eight of which are currently under design. The City is pursuing larger solar installations through an RFP for third-party development and of solar on City buildings. The RFP is expected to be released in the next few months.