Rapid roll-up doors at DSNY's 26th Street Repair Garage
The 26th Street Repair Garage is the Department of Sanitation's repair garage for the borough of Manhattan. This 205,000 square foot facility allows DSNY to perform major repairs and inspections to their entire vehicle fleet (garbage trucks, street sweepers, salt spreaders, sedans, etc).
Following the recommendations of a comprehensive energy audit of the garage in May 2008, DEM, in partnership with DSNY and NYPA, began working on a comprehensive package of energy efficiency upgrades, which together will have a total cost of $4.1 million and result in $328,155 annual energy cost savings and 1,365 metric tons of greenhouse gas emissions reductions. Implementation of these upgrades is progressing in phases: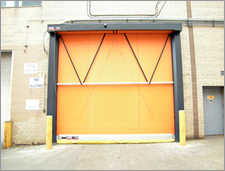 Phase I (complete): Retrofit of 1,567 light fixtures.
Phase II (under construction): Replacement of one large 100' wide sliding door with a 35' wide rapid roll-up door (see photo to the right). A rapid roll-up door is a flexible yet durable door that opens using a motion detection sensor and closes within seconds, greatly reducing the amount of heating or cooling that escapes the building compared to a mechanical or manual door, which requires an operator to close, and therefore is likely to be remain open while facility is in use.
Phase II (under design): Upgrades to the HVAC system. Replacement will include 14 new packaged HVAC units and a control upgrade to provide the necessary heating and cooling comfort levels throughout the year without additional energy usage.
The 26th Street Repair Garage is the first PlaNYC-funded comprehensive energy audit with recommendations that have moved to construction. It is also the first project that has integrated improved operations and maintenance into the audit/retrofit process.
To see the rapid roll-up door in action, you can click on the above photo for a short video.