Brooklyn Central Library Audit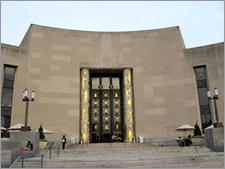 DCAS DEM in partnership with the Department of Design and Construction (DDC) and its engineering consultant Dome-Tech, Inc. recently completed an energy audit of the Brooklyn Public Library at 1 Grand Army Plaza. This energy audit is the first completed in partnership with DDC, and three other similar audits are currently underway. The audit process satisfies the requirements of Local Law 87, which requires periodic energy audits, retro-commissioning and retrofits of buildings that exceed 50,000 square feet.
The energy audit at the Central Library reviewed energy use in the four main areas of the 350,000 square foot library: the main library consisting of the two wings lining Flatbush Avenue and Eastern Parkway along with the main lobby and circulation rooms; the "decks," which are four floors of book storage located below ground; the "new wing" along Flatbush Avenue which consists mainly of office space; and the Dweck Auditorium, which consists of a lobby and auditorium used for various events. The audit identified twelve energy conservation measures (ECMs) and eight retrocommissioning measures (RCMs) which, if implemented, could save the library a total of almost $333,000 annually in energy costs. With a current annual energy bill of over $730,000, this represents a 45% reduction in energy costs for the library.
The ECMs with the greatest electricity savings are optimizing computer use by time of day, upgrades to the library's lighting and the installation of lighting occupancy sensors, and the installation of new or expansion of existing building management systems, which allow for centralized operation of multiple pieces of equipment. Other recommendations include replacing restroom sink aerators, installing software that allows vending machines to power down overnight, and a steam trap maintenance program.