Energy Upgrades at 44 Beaver Street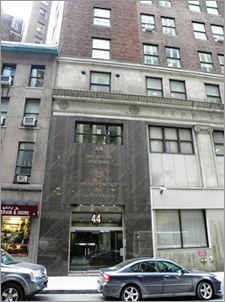 DCAS DEM and the Department of Sanitation (DSNY) are working together to complete a comprehensive energy efficiency upgrade of a DSNY office building at 44 Beaver Street in Lower Manhattan. The 12-story building was built in 1920.
DSNY is upgrading the existing HVAC system, while DCAS DEM, through its contract with the New York Power Authority (NYPA), is retrofitting the lighting system and installing sensors. Together, the two projects are expected to reduce energy use and costs by approximately 430,000 kWh and $66,000 annually, at a total project cost of $2.3 million.
The HVAC upgrade will replace the existing constant volume air conditioning units and bypass air boxes with new AC units on each floor. The supply blowers and return fans on the new AC units will have variable frequency drives, and the temperature in each zone will be controlled by variable air volume (VAV) boxes. The new equipment will enable the system to adjust the amount of air delivered to each zone based on occupancy. The new system also will have an air site economizer that senses the temperature and humidity of outside air and distributes fresh, unconditioned air throughout the building when possible, which together with the other equipment will reduce overall energy consumption and the building's energy bill. The upgrade will also replace existing pneumatic controls with electronic controls.
DCAS DEM and NYPA are replacing all existing lighting in the building with energy efficient lighting and will install occupancy sensors.
Both projects are now under construction and are expected to be complete by September 2011.